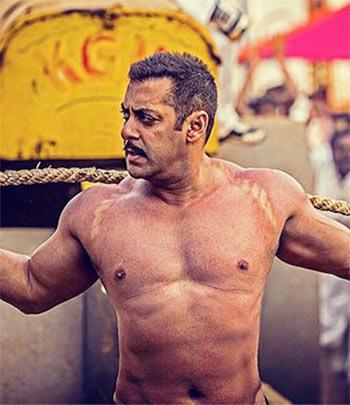 Director Ali Abbas Zafar relies solely on Salman Khan's drawing power and offers nothing novel in terms of storytelling, feels Sukanya Verma.
A title signifying superiority? Check.
Leads a premise that involves surpassing every obstacle? Check.
Batters beefcakes in all colours and sizes as if just waiting to be struck? Check.
Demonstrates steamroller strength? Check.
Indulges in tomfoolery to woo the girl? Check.
Breaks into ludicrous dance moves. Check.
Sounds off philosophy against a self-congratulatory theme song? Check.
Takes off his shirt? CHECK.
Make no mistake. Sultan is a classic Salman Khan vehicle in the skin of a sports drama imagining itself to be more profound than it really is. Doesn't mean it's not engaging, a lot of it is but, despite the possibilities, writer-director Ali Abbas Zafar relies solely on its main star's drawing power and offers nothing novel in terms of storytelling.
Sultan (Khan) is the tale of a small-town Haryanvi loafer of Rewari district who finds his calling in pahelwani after he runs into a state-level wrestling champion (a spunky yet subtle Anushka Sharma as Aarfa) and promptly falls in love.
The setting works up its flavour by way of lingo and soundtrack for a good part of the movie as the couple on a winning streak grab gold medals by the dozen.
Following a sad twist, the action shifts to Delhi and coach Randeep Hooda's (in an extended cameo) taunt and teach methods where wrestling makes way for several rounds of mixed martial arts tournament.
I would have liked it better if the action was a more imaginative mix of desi kushti and international fighting styles.
Having said that, Salman packs in substantial heft around a predictable pattern of results. It's a role that alternates between physical power play and unguarded sentimentality. By underplaying his vigour, narcissism or even political leanings (Bharat Mata Ki Jai) around an already bloated setup, Salman gives Sultan more dimensions than he actually possesses.
The underdog's triumph of spirit is the calling card of the sports genre and Bollywood is known to lend it incentive around personal crisis while disregarding strategy.
Occasionally, Zafar gets off the formulaic route to reveal the progressive outlook of his protagonists only to dilute whatever impact it generates by thrusting frivolous elements.
Just after Anushka comments on the prevalent patriarchy and vows to fight it, the scene cuts to Salman and her shaking a leg around a bunch of colourful extras to the beats of Lag Gaye 440 Volt. Ironically, Aarfa's spirit is the first casualty in story and a rude reminder of how our films refuse to allow a woman to have it all.
This trait of Sultan vexed me no end. It's superficial in its ambition, as if the only objective is to tick off items on a list without bothering to check if appears authentic in the final scheme.
It's a story of two decorated wrestlers but their awfully rustic lifestyle suggests otherwise. Zafar cannot decide whether he wants to present his heroine as a feisty sports achiever or a dung cake smacking village belle. Also, no amount of rehearsed Haryanvi accent can conceal Salman and Anushka's shiny stardom, which stands out out even more conspicuously around its believable supporting cast of Amit Sadh and Kumud Mishra.
Consciously emotional in tone, Zafar creates some earnest moments around Sultan's guilt when he breaks down over his out of shape physique. Warmth, not attraction, governs his chemistry with the much-younger Aarfa.
Age is an impediment for Salman's character but not rubbed in too harshly. Mostly it provides fodder for some humour when he challenges local blokes in a game of collecting kites or just stops short of calling Aarfa's father Bhai before settling on Uncle.
Yet surprisingly, he doesn't feel the need to acknowledge the growth in Sultan's any other relationship besides Aarfa. Deep bonds are formed without the viewer getting a whiff and scenes of last-ditch reform are little more than consolation prize.
The Rocky trace (the commercial scene tips its hat at Rocky II) is unmistakable and Zafar does try to emulate Balboa's motto of 'not about how hard you hit but how hard you can get hit and keep moving forward.'
But at almost three hours running time, no thanks to a couple of completely needless songs, a spirited but spent Sultan slogs its way to knockout.
Rediff Rating: