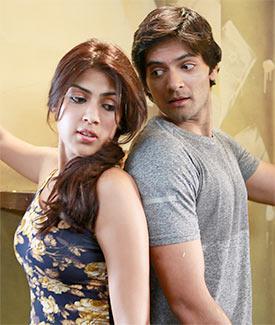 Sonali Cable starts off as an intriguing story but disconnects itself from the point of the film incredibly fast, says Raja Sen.

Somewhere on paper, Sonali Cable might have been a solid idea.

The basic concept -- of an enterprising girl selling broadband Internet connections, making sure her customers are ever loyal and never offline -- is both naturally intriguing and certainly timely, like an updated version of The Ronnie Screwvala Origin Story.

But unlike the UTV founder's amazing tale, that of providing cable TV connections with illegal but curated content, here Sonali is already up and running with three thousand connections under her belt.

But hark, a Reliance-like megacorporation is ruthlessly shutting down these neighbourhood cable-guys. It's a classic David and Goliath showdown.
Except it isn't.

Sonali Cable disconnects itself from the point of the film incredibly fast, littering itself with one-note characters stuck in cinematic cliches.

Leading lady Rhea Chakraborty (who we last saw in the very amusing Mere Dad Ki Maruti is suitably bright and cheerful, and while she throws out Marathi phrases with much glee, her Hindi the rest of the time is as Delhi as it gets, free of any Maharashtrian strains.

But the girl, I assure you, is the good part.

She has a few good moments, a few fine lines. The rest of the film -- made by debutant Charudutt Acharya -- is almost entirely disappointing, nosediving into maudlin drama in the second half to the point where the dramatic climax just sounds laughable.
The film's first jarring note is hit by Anupam Kher, playing the evil magnate and hamming it up so dreadfully the film immediately becomes a cartoon.

Then there's Sonali's right-hand-kid, a freshly plucked version of Vivek Mushran who ends up unbearably annoying.

Add to that a mix of drunken fathers, evil politicians, wicked mothers, goondas, friendly Sikh grandparents, and snivelling necktie-wearers (who are, for some reason, awestruck by the mention of Phoenix University).

The very point of the film, of David and Goliath, of an entrepreneurial young lady who takes on a capitalist dictator, is lost in this unnecessary drivel.

This could well have been a film like Band Baajaa Baaraat or Rocket Singh, films where we saw the lead characters innovate against the odds and do something their bigger rivals couldn't.

That jugaadu ingenuity made us respect the characters.

Here, the closest thing to a hero just nods his head reproachfully while things go from bad to catastrophic.
It is refreshing, of course, to have the girl in the driving seat, pushing the action forward.

I just wish Sonali had been given more to actually do rather than rely on every 'good' person in the film to show up for the climax and lend their (very insignificant) hands.
One of the reasons I walked in hoping this'd be a great film was because I have a broadband-guy at home, not any of the usual big service providers, and he does a bang-up job. With customised service, help whenever I need it, and a fair bit of out-of-the-box (or out-of-the-router) thinking whenever he needs it.

He finds out just what his clients wants and tailors the plans so intuitively that the big boys, looking only at each other's numbers, can never measure up.

He does, of course, play as fast and loose with the truth as the situation demands, but there is something to be said for his unflappability.

Is he worth a movie? Hell yeah.

Just a better one.

Rediff Rating: