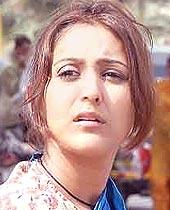 Preeti Arora reviews Shahrukh Bola Khoobsurat Hai Tu.  Post YOUR reviews here!

SRK fans have been feeling deprived of late. So a title Shahrukh Bola Khoobsurat Hai Tu, might just take them scurrying to the theatres. But a small note of caution. The film has only a miniscule guest appearance by Shah Rukh Khan.

SBKHT is all about how the superstar's persona has invaded millions of lives across the globe cutting through all sections of society.

Laali (Preetika Chawla) is a flower seller who has a chance encounter with her demi-god SRK at a signal one day. This innocuous event becomes the turning point of Laali's life as she escapes into a dream world. But Laali isn't a middle class girl who can spend all her time fantasising about her favourite hero. She's a part of a larger community where no thoughts or emotions can be concealed for long. Her pointless infatuation sets off a chain of events with bizarre consequences.

John (Afzal Khan) a book seller at the same signal is madly in love with Laali and goes ballistic when her obsession shows no sign of diminishing. Even as he is all set to destroy himself, Champa the vamp with a heart of gold appears to rescue John and save him from disaster.

Veteran theatre director Makarand Deshpande's debut film SBKHT is a satire about Bollywood invading our lives and deciding the course of our actions whether we are aware of it or not. John visualises himself as a Devdas and Champa sees herself a modern day Chandramukhi. But this soap opera isn't being played out in a crumbling haveli of Bengal, it's happening in a little hutment community adjacent to the traffic signal.

The opening sequence makes you balk but the film manages to keep you engrossed because it's difficult to predict how the characters will react. The pressures of life are rigorous and violence continuously simmers below the surface. Whether it is the arrogant police inspector or the carom king 'Wanted', just about everybody is ready to start a brawl. And yet in a moment of crisis people are not alone. Unlike a middle-class society, where people tend to turn up the volume on their stereos when a storm brews in the adjacent flat!

The film has been shot partly on location and the feel is authentic. Newspaper-lined walls, dimly lit nursing homes, cramped police stations successfully create the right ethos. A wash room is just a tiny space demarcated by a curtain. Rubble and garbage are consistent backdrops in many scenes.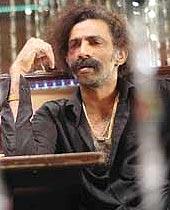 Makrand Deshpande plays Salim the local don who has eyes at the back of his head and despite his puny frame beats up several goons single-handedly. Obviously Makarand's tribute to his mentor Shah Rukh!

The obvious flaw in the film is the supporting cast. Salim, 'Wanted' the crime reporter and his German girlfriend Stefie, are all prototypes and mouth corny dialogues. Spoofing masala movies is fine but when it happens repetitively it becomes a shade tedious. And the pace drags the film down especially in the second half.

Preetika Chawla (an accidental discovery by the director) plays the role of Laali to perfection. She wanders around in a hazy dream-like state with a perpetual smile hovering around her lips. Dialogue delivery is bit raw but she has loads of potential.
The narrative stays focused and doesn't try to incorporate any sub-plots. A common mistake by debut directors which thankfully Makarand Deshapnde has manged to avoid. Good cinematography without gimmickry or dull gloomy mood lighting.
This film isn't really for SRK fans. There is no gloss or candy floss involved.
But it's an interesting watch for those who enjoy slice-of-life films. And for those who believe DDLJ to be a cult film. 
Rediff Rating: