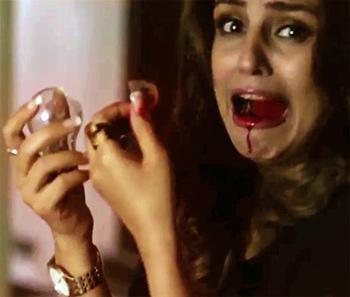 The Hindi version of the spooky Oculus fails to be spooky enough, discovers Prasanna Zore.
Mirror, mirror on the wall, who is the spookiest of them all?
Huma Qureshi?
Saqeeb Salim?
Adil Hussain?
Lisa Ray?
Madalina Bellabriu Ion?
Dobaara: See Your Evil fails to answer this question, but each of these actors spook you in this remake of Mike Flanagan's paranormal film Oculus.
Things happen again and again inside a plush villa in the United Kingdom as the reel-life (and real life) brother-sister Saqeeb and Huma grapple with their childhood horrors.
Adil, a sculptor, brings home an antique mirror and all hell, literally, breaks loose.
The mirror is possessed with the spirit of a century-old witch who was burnt alive and is out to reek revenge.
Revenge, for what? Well, don't ask because you will have to find it out yourself, just like Dobaara's bhai-behen grapple with their imagination and realities of horrors past but not quite fruitfully.
Dobaara, at times, especially after the interval, gets repetitive with flashback flip-flops every second frame.
That, in part, succeeds in spooking the viewer, but the background score doesn't add to the eerie air that director Prawaal Raman tries to imbue the film with.
Huma, Saqeeb, Lisa Ray and Adil Hussain sincerely tread the plot to give you the heebie jeebies, but Raman's Hindi adaptation begins limpidly in the first half with the bhai-behen jodi trying to spook you with their own view of what destroyed their parents's marriage, and then the family.
Post interval, Dobaara makes a sincere effort to get into your skin and mind, making you believe the bhai-behen's story as your support for their versions of what happened to their parents keep shifting.
The duo, after overcoming their fears and anxieties, devise a plan to 'kill' the mirror. But do they succeed?
Well, we are not telling you that.
Watch Dobaara only if you have the guts to overcome, not fear, but boredom.
Rediff Rating: