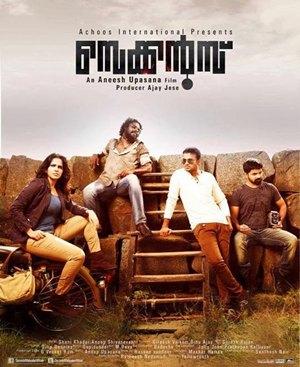 By the time the big twist arrives in Aneesh Upasana's Malayalam thriller Seconds, we are too jaded to appreciate it, says Paresh C Palicha.

Aneesh Upasana's Malayalam film Seconds, has a simple story line.
Within a few seconds of the beginning of the film, we see two unnatural deaths and two fatal stab injuries.

The narrative then goes back and forth, piecing together the story of the victims and how they reached their untimely deaths.
The script by Shani Khader and Anoop Shivasevan tries to confuse the viewers by showing some scenes in multiple points of view without making any headway in the story.
Four strangers get into the elevator of an upmarket residential building.

The elevator gets stuck and the power goes off. When the light comes on again, one of them is lying on the floor with a stab wound.
Then the second guy falls in a similar fashion. The third and the fourth fight it out, each suspecting the other of being the culprit. One kills the other and the police catch the fourth one, who is a woman and is suspected of committing the crime.

Next, the narrative loops back to show how the four people reached the elevator.
Veeramani (Jayasurya) is an insurance agent, who lacks the confidence to achieve his targets. He lives with his mother, wife and a young daughter.
Firoz (Vinay Forrt) is a struggling photographer working hard to make it big in films as a still photographer.

From the beginning one feels he is not as innocent as he looks. There is something brewing under that calm exterior.
Thambi (Vinayakan) is a criminal with a drug problem. He lives in a slum with two wives. He can easily turn violent when he is on a high.
Teena (Aparna Nair), a salesgirl in a jewellery shop, is in need of money as her family has to clear a huge debt.

So, she accepts the job offered by a competitor, played by Riyaz Khan, even though his reputation is very bad.
The first half is devoted to showing how these people arrived at the building and the events that caused the death of one of them and left the others badly injured.
The second half shows why they were here. The story is stretched unnecessarily -- the film lasts two hours -- and the loops in the screenplay do not achieve any purpose other than consuming time.
By the time the big twist arrives, we are too jaded to enjoy or appreciate it.
One can't find faults in the performances.
The main problem with Seconds is that it does not value the viewer's time.

Rediff Rating: