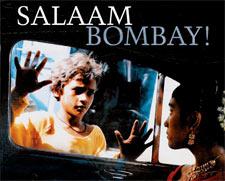 Twenty five years since its release, Mira Nair's Salaam Bombay has aged well, writes Sukanya Verma.

Inside the Chillar Home (children's remand home), one of the boys tells our 10-year-old hero, Paanch saal mein hum sab ko sab bhool jaate hain. (Everybody forgets about us after five years.)

It's been 25 years since Mira Nair came out with her debut feature film, a poignant depiction of street kids of Mumbai (then Bombay) but the depressing admission of Murtaza continues to pinch.

Re-released in limited theatres as part of PVR Cinemas' Director's Rare series, Salaam Bombay has aged well. But it's the spirit and reality of its visuals and voice and not the cinematic quality that sucks you inside the unattractive world of Salaam Bombay's inhabitants.

Walking inside this world -- the infamous red light area of South Mumbai, the box-sized abodes of prostitutes and pimps, the junk-filled lounges of little boys and girls who're only young on the exterior and watching it from close quarters is quite different from passing it by with short-lived empathy.
And Nair, along with writer and long-time collaborator Sooni Taraporewala, strives to bridge this disconnect with her sympathetic but straight portrayal featuring actual street children in its young cast.
In Salaam Bombay, which is shot only on actual location, morality is non-existent and pointless, when one's literally on the road. Drugs (referred to as dard here), sex, crudity (Their version of Aradhana's Mere sapno ki rani is quite different from the one you and I know) are casual elements that lead to income and relief. The philosophy is extreme but explicable -- Jisne na peeya ganja, woh chakke ka bhaanja.
Amidst this backdrop arrives a 10 year old Krishna (Shafiq Syed) from rural Karnataka with the goal of earning five hundred bucks so that he can go back home. He's been kicked out after he burned his brother's bike and the circus he worked for leaves him behind. Now he'll only be allowed in by his family if he recompenses for his mischief.
Bombay is a stunning paradox whose frames are filled with high rises and slums, bursting with traffic, lonely in soul, this city is accommodating and ruthless, moody and predictable, filthy and relaxed but seldom welcoming of a long-term visitor with open arms.

Especially to someone whose heart is filled with hope and innocence. But despite these challenges of snobbery and struggle, Bombay is irresistible and, ultimately, home.
Syed, with a dazzling gaze that oozes melancholy and a smile that instantly comforts, carries the episodic structure of Salaam Bombay on his delicate shoulders with the same reliability his Krishna, rechristened Chaipau (by the neighbourhood) demonstrates right till the end of this story.
Through his interactions we are introduced to various characters like the seemingly harmless but self-seeking hustler Baba (Nana Patekar), his disillusioned sex worker wife Rekha (Anita Kanwar), their daughter Manju (Hansa Vithal), the obscenity-spewing head of this concubine business (Shaukat Azmi), Sola Saala or the new girl readying for a life in flesh trade (Chanda Sharma), Baba's constantly doped lackey Chillum (Raghubir Yadav) and Chaipau's gang of brash, Bollywood-addicted kids -- Koyla (Sarfuddin Qurrassi), Keera (Raju Barnad), Chungal (Chandrashekhar Naidu).
Often filmmakers tend to romanticize abject destitution to procure compassionate moments on screen.

But while, Nair too aims for fanciful visuals (by cinematographer Sandi Sissel), there's visible honesty in her approach, a genuine appreciation for her unfeigned protagonists and their wholehearted acknowledgement of life as it is.

It leads to some memorable imagery especially the influence and value cinema holds for the children. The animated response inside the theatre to Sridevi's vibrant dance in Mr India's Hawa Hawaai is alone worth the price of admission.
There's such inspiring history in what all went into making this award-winning, internationally-acclaimed gem.
Nair hung out extensively with street children to know their story inside out, their day-to-day existence, their dreams and ideologies. She stepped out to explore the murkier centre of this society to get a deeper understanding and tone, which is faithfully reflected in Salaam Bombay's atmosphere. When research and heart combine -- this is filmmaking at its purest and it shows.
The kids, too, participated in workshops under Barry John's guidance to get familiar with the nuances of filmmaking before Nair went into production. One can imagine there's a tremendous story even within its behind-the-scenes somewhere.
I cannot say so and so performed wonderfully or got into the skin of his character because the strength of Salaam Bombay comes from its predominantly non-actor cast. Indeed Nana Patekar, Anita Kanwar, Shaukat Azmi and even Irrfan Khan (in a minute-long appearance) lend grit to the proceedings but this is ultimately Syed's film.
Chaipau's heartbreaking journey to find his way back home ends in an unforgettable last scene where he cries inconsolably over the inevitable loss of innocence. And you cry with him because Dorothy is just a fantasy and there are no wizards in Emerald City.