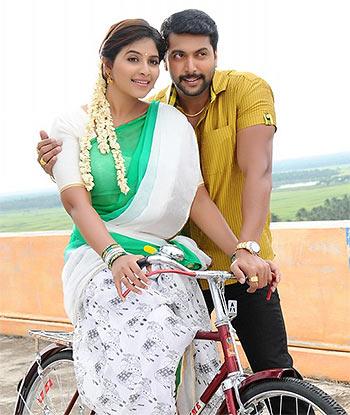 Tamil film Sakalakala Vallavan Appatakkar lacks imagination, says S Saraswathi.
Director Suraj's Sakalakala Vallavan Appatakkar is an outdated action comedy that offers little to hold your interest.

Set in the rural backdrop, the film revolves around the rivalry between two families that spans generations, interspersed with some ridiculous romance and highly exaggerated marital discord.

The film is crammed with characters that little else to do except mindlessly add to the melodrama.

Besides the lead actors, Jayam Ravi, Trisha and Anjali, we also have comedy actors Soori, Vivek and Rajendran and veteran actors like Prabhu, Rekha and Radha Ravi.

The director has simply shot the film in a series of episodes with Jayam Ravi as the common link.

The first focuses on the family feud between Shakti (Jayam Ravi) and Chinnabuthi (Soori).

But this mostly serves as the main comedy track for the film with Chinnabuthi being made the scapegoat each time.

The entire narration is so liberally peppered with songs, punch dialogues and theme music from popular films like Singam, Kanchana, Thalapathy, Enthiran and several others that it begins to get on your nerves.

The romantic track between Shakti and Anjali (Anjali), who is Chinnabuthi's uncle's daughter, is downright silly. The lovers barely declare their love when Divya (Trisha) enters the scene.

Divya is the daughter of Shakti's uncle and is engaged to a corrupt police officer played by John Vijay. The first half ends with her fiancé being melodramatically dragged away from the wedding hall by the police, while Shakti, the duty-bound son steps in to tie the knot.

Since Divya is brought up in the city, she has no respect for the village-bred Shakti, much like the 1982 Sakalakala Vallavan story that had Kamal Haasan essaying the lead role.

Trisha has a bigger role to play in the second half, while Soori and Anjali dominate the first. The others in various supporting characters put in brief appearances at set intervals. The entire episode with actor Vivek seems completely unnecessary.

Jayam Ravi as usual is convincing, and gives a decent performance.

But the script seems determined to make a mockery of everyone. Every situation is treated as a big joke, making the entire film seem shallow, frivolous and tedious.

The film stretches on endlessly and appears far longer than its 2 hours and 30 minutes. Besides the never-ending mindless comedy, the film also gets a little too preachy with Jayam Ravi moralizing on modern day marriage vows and divorce rates in the cities.

Music by SS Thaman is ordinary and none of the songs stand out.

The absurd script, inept execution, bizarre antics of the lead and supporting actors coupled with some ordinary music make director Suraj's Sakalakala Vallavan Appatakkar a total bore.
Rediff Rating: