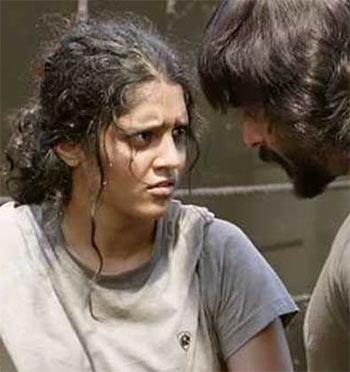 Saala Khadoos fails to produce a spirit that stirs and soars in equal measure, feels Sukanya Verma.
Sports dramas offer very little surprises.
Stories about athletes, real or fictional, are frequently a predictable package of an underdog's troubles and triumphs.
Like a minute into its first scene -- a young boxer crumbles to her opponent's severe battering, a disheveled tracksuit-clad man storms in last minute hoping to make essential eye contact from the side-lines before the screen blurs to announce 'nine months ago' -- and Saala Khadoos is already all too familiar.
That would be still all right if the movie could produce a spirit that stirs and soars in equal measure.
But director Sudha Prasad Kongara's Hindi film debut, full of shabby loopholes and overdone aggression, neglects the finer details of her leading lady's challenging milieu to focus on one-dimensional rage.
The unceasingly growling tone and inhabitants of Saala Khadoos wear aggression like a badge.
If it's not R Madhavan's virulent coach firing offensives at his lumbering batch of girl boxers or perversely grabbing (a suitably creepy) Zakir Hussain's crotch, it's his wild new protégée screaming her guts out till your ears explode.
As it usually happens, foul play put a lid on Madhavan's flourishing sports career and this embittered coach Adi Tomar is bundled off to revive Chennai's sleepy women's boxing scene.
Disenchanted by the turn of events at first (and perhaps banners reading 'harty welcoms'), he finally notices a worthy contender in a hot-tempered fishmonger named Madhi (Ritika Singh) -- the kid sister of a mediocre talent (Mumtaz Sorcar) also training under him -- and offers to pay her to come on board.
Ideally, Madhi's fiercely independent disposition and ascent from an impoverished background, depicted quite realistically, would be the point of emphasis but Saala Khadoos insists on making it about flaring tempers and punctured egos of two identical personalities in collaboration when not romanticising Madhi's rusty rebellion through electric-guitar strumming numbers.
Amusingly though, it only takes one hasty scene depicting Adi's magnanimity under the tough exterior to turn Madhi into a giddy teenager.
There's an obvious attempt to construct a Professor Higgins-Eliza Doolittle sort of (only 10 times more high strung) vibe around the two. At one point, she even hurls a boxing-equivalent of 'Now you've made a lady of me, I'm not fit to sell anything else' line at him.
And while it all haphazardly unfolds, there's sibling rivalry/ sabotage, sports association politics and a promising career gone in doldrums at work.
What's nearly as exasperating as the hysterical behaviour of its key protagonists is how every single development in the film is a laboured afterthought.
All through Adi is seen rebuking or running down the girls he's hired to teach and inspire. His misogyny and crudeness isn't limited to words. At one point, he even kicks Madhi after she loses a match due to injury. And yet, Saala Khadoos insists he be embraced like some figure of sacrifice and goodwill fighting for the cause of women's boxing in India.
R Madhavan has a flair for playing unlikeable characters well. He achieves that here too. But his irritation struggles for better articulation and argument in a script that takes virulence and vigour to be the same.
Ritika Singh's experience in kickboxing and karate lends her Madhi a convincing physicality; she's mighty good inside the ring. While she has an attractive vulnerability, that works best in her quieter, reflective scenes, Singh is painfully exaggerated in her outbursts.
As her 'junior coach,' Nasser makes a trivial contribution, especially in that droll scene where he justifies his drinking and love for liver fry.
Other than that, Saala Khadoos doesn't have too many laugh-out-loud moments if you discount the unintentional ones. Like when a black-eyed Ritika envisions Madhavan in a burly, bald baddie's face at a key, dramatic juncture of the final fight or how her Russian opponent specially lost weight to specifically fight her and move from heavyweight to lightweight boxing.
Between its many, many confused, underdeveloped, raucous ideas, hides the film Saala Khadoos set out to be. Too bad it never made it to the screen.
Rediff Rating: