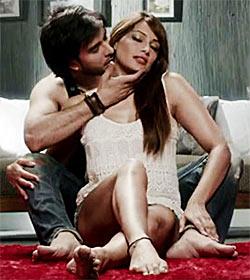 Creature 3D is just about as thrilling as the prospect of attending extra classes during summer vacation, rants Paloma Sharma.
Creature 3D, directed by Vikram Bhatt, is India's first monster thriller, sci-fi film. And to answer the question that may have just popped up in your mind, no, Vikram Bhatt hasn't been shipped to Azkaban after Dangerous Ishq, to give lessons to dementors on how to suck the last drops of happiness out of even the saddest person sitting in the darkest corners of the cinema hall.
In case you're wondering about insignificant things like plot, direction, logic etc, please do not waste your precious time on such trivial details.
There's a lot more to look forward to in a Vikram Bhatt movie (any Vikram Bhatt movie) and for Creature 3D, Bhatt has clearly worked extra hard to pick out all the best elements from every other film he made in order to make this one completely flawless.
For example:
The empty, totally available haveli/kothi/bangla on a hill station, near a forest, isolated and basically in the middle of nowhere.
The stereotypically scared/God fearing/topi-wearing Pahari locals.
The object that the bhoot/pret/aatma is bound to.
Loads of mist.
You catch my drift, right?
Creature 3D features Bipasha Basu as Ahana, a suicidal woman, who has daddy issues and a total of two emotions, ie, sadness and extreme sadness.
Ahana buys an old bungalow in a hill station in the middle of nowhere (see point 1 above) and turns it into a boutique hotel.
Everything is all right for a while and Ahana finds Kunal, played by Imran Abbas Naqvi. Ahana and Kunal instantly make fraanship because they have so much in common. For example:
1. Kunal too has exactly two emotions -- guilt, and sadness that stems from guilt.
2. Both of them have/had rich fathers.
3. They're both equally pretty. (Okay, I'm sorry. That was mean. Kunal is definitely prettier.)
Creepy Banker Dude shows up to remind Ahana of a loan she needs to pay back in order to keep her hotel, but other than that, everything is good for a while. Then the singing and the dancing starts.
Funny how a T-Series film could have such migraine-inducing music. The creature attacks are less scarier in comparison.
Speaking of which, the creature doesn't make an appearance right away. Oh no, you only see claws, legs, a single reptilian eye and that ever swishing tail which screams "ANACONDA!"
All of these things, coupled with the fact that you've already seen his face in the promos, and you have the power to put two and two together, totally don't mean that you already know what the creature looks like.
Not only does it eat human flesh, it also moos like a cow in heat (voiced by Bhatt himself) and seems to have the perfectly sculpted torso of Hrithik Roshan.
The creature prays on the innocent guests and staff of Ahana's boutique hotel, who start disappearing. The protagonists -- the undead ones -- try to stop him, but as it turns out, no mortal weapon can hurt him.
Whatever will poor little defenseless Ahana do?
Well, realistically, she'd run away while she was still alive, but since she and Kunal have the shared IQ of 54 and she has a loan to repay...
Yeah, we all know where this is going.
Bipasha Basu is India's answer to Kristen Stewart, and trust me, if you write *this* answer in an exam then your marks are going to be the numerical representation of Kapil Sharma's favourite phrase.
Imran Abbas Naqvi has the unique ability to act and still seem like he's reading from a script. Not only that, he can also play a life-size, cardboard cut-out of himself WHILE playing Kunal!
Such talent.
I'd love to comment on the script but I think it was the last tissue on set and someone must have accidentally used it to wipe a tea stain on their shirt.
These things tend to happen and you really can't blame anyone for them.
As for Bhatt's control over and steering of the film, even one of Ranbir Kapoor's 'irresponsible boy' characters has more direction than Creature.
There are so many loopholes in the plot that I could embroider on it a cross-stitched portrait of Sajid Khan, which would be a lot scarier.
Creature 3D is just about as thrilling as the prospect of attending extra classes during summer vacation. The only real monsters in it are the people who unleashed it upon the rest of us.
Rediff Rating: No stars