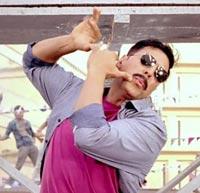 Watch Rowdy Rathore only to remind yourself of Akshay Kumar's old Khiladi flicks, writes Raja Sen.

It's old hat. Or old vardi, if you will.

We've seen it all before and apparently — going by the numbers generated by Ghajini, Wanted, Dabangg, Bodyguard, Ready and Singham -- that's what we want. A good meaty chunk of pointless predictability, brutal violence avenged by even more sadistic violence, and one-liners than make no sense: everything serving only to prostrate the film at the feet of the star, making him the all-powerful messiah who can alone deliver us from boredom if we applaud loud enough.

So here's yet another assembly-line actioner, and, for what it's worth, it's not as awful, really.
Sure, nothing justifies a 139-minute length, but Akshay Kumar carries both moustache and cop uniform better than his peers -- yes, I include Salman Khan in that comparison, the one whose clothes refuse to stay on -- and while both Khan and Ajay Devgn can competently scowl and maim (and make Lady Gaga claws, if need be), Kumar's way better at playing the fool.
And that's where Prabhu Deva's Rowdy Rathore surprises, somewhat.
Inured to the kind of exploding-beedi violence promised by the trailer, the film instead starts stupid and stays silly. This is much more like an early Khiladi movie -- where Kumar recklessly got away with anything, goofily stumbled towards the climax and then proceeded to kick bottom without mercy -- than any of the recent films which have completely forsaken plot.
As a result, it's far less objectionable. Still moronically stupid and entirely pointless, but nowhere near as horrid as what the genre's been reduced to in the last couple of years.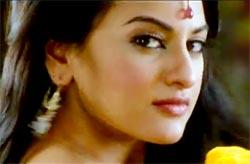 Also in its favour is the fact that Kumar is visibly in on the joke. Sure, he plays larger-than-life police lumberjack with baniyan-endorsing abandon, but as the film ends and the goofball slips into the superhero shoes, he has a blast with the part. Climactically facing the film's villain -- a murderous butcher looking uncannily like Anurag Kashyap the day the No Smoking reviews were published -- Kumar dresses for the finale in trackpants and takes time between groin-shattering kicks to do a couple of jumping jacks.
Also, this man looks significantly at home lying back on the hood of an SUV. Like Amitabh Bachchan showed us when he dhishoomed his way through dozens, this is a genre where height's a pretty good bonus.
It can hardly be called a film, but ah well. Watch it if only to remind yourself of old Khiladi flicks and remember a time when we used to think heroines couldn't get any plumper or sillier than Mamta Kulkarni. Ah, naive youth.
As for you, Akshay, carry on up the Khiladi.
Rediff Rating: