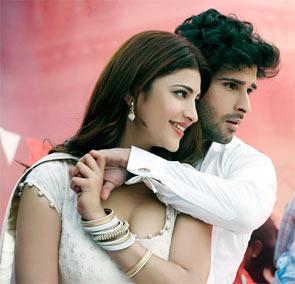 Ramaiya Vastavaiya will leave you with a couple of good laughs, if nothing else, writes Paloma Sharma.

Ramaiya Vastavaiya, dancer master-turned-director Prabhu Dheva's remake of his own Telugu film Nuvvostanante Nenoddantana, is what Vidya Balan had once used to describe herself in The Dirty Picture, "Entertainment, entertainment, entertainment."

If you're looking for decent art direction, script or even logic, you know where to find the door, thank you very much.

Starring Girish Kumar as Ram, a young Indian boy who was brought up in Australia, Ramaiya Vastavaiya follows him to India where, at his cousin's engagement, he meets and falls in love with a doormat Sona (Shruti Haasan). Sona rejects him but Ram isn't one to give up. He 'pursues' her to every corner of the flower-and-light covered, newly whitewashed shaadiwala ghar that appears in every second Bollywood film from the 1980s, through the 1990s; until eventually she too feels that "something-something".

The illusion of happiness is shattered when Ram's domineering mother finds out about them and she (surprise, surprise!) disapproves. She wants him to marry a rich girl but Sona is a poor orphan. Her only family is her brother Raghuveer (Sonu Sood), who raised her from the cradle and is the guiding force in her life. When Ram's mother insults Raghuveer, Raghuveer returns to his village with his sister, all unbeknownst to Ram.

To get Sona back, Ram must succeed at an un-accomplishable task set by Raghuveer.
If he fails, he must forget Sona and leave the village forever. The tension builds up and everybody mopes around. Will the lovebirds ever reunite?
Go ahead, take your best guess.
Just in case you walk in late and miss the credits in the beginning, fear not -- it becomes pretty evident as the film progresses that this is a vanity project for Girish Kumar. However, it is a relief that Kumar does manage to deliver almost 2.5 hours of solid entertainment. Although his character in the film is completely unrealistic, Kumar keeps it as real as he possibly can.
The same could be said for Ramaiya Vastavaiya's leading lady, Shruti Haasan. Sona seems to have no basis for existence except for, at first, by virtue of her brother and later, by virtue of her lover.
It is good to see Sonu Sood break out of the series of negative roles and comes across as the most genuine member of the cast.
As for the much-hyped guest appearance of Jacqueline Fernandez and the film's director, one wouldn't entirely regret it.
Ramaiya Vastavaiya's saving grace is the music. Soulful Hindi-pop and funky dance numbers from Sachin-Jigar will have you humming when you leave the movie theatre. Although Hip Hop Beat has some rather eccentric lyrics, they seem completely in place with the music. Bairiya and Jeene Laga Hoon are just the kind of mellowness that the film needs to sidestep the melodrama for a bit.
While Ramaiya Vastavaiya has a scene with Sonu Sood sending out a good message about the evil that is sexual harassment (before beating the living daylights out of the harassers), it does indulge in doublespeak when Ram hugs and kisses unknown women, taking them by surprise and almost always, against their will.
The hero and the brother dominate this story while the heroin mopes around and waits for either of them to act in her (and her lover's) favour. Ram's controlling homemaker mother harasses his powerful, billionaire father (somebody's been watching certain daily soaps, it seems) and the gold digger who wants to marry Ram is a spoilt, rich girl who wears skimpy clothes (while Sona is always seen is a nice, traditional ensemble).
There is love for the mitti and insults against farmers are avenged. All the villagers are innocent and hardworking folks while the city's millionaires scheme and drive into villages in their SUVs repeatedly.
Everything in Ramaiya Vastavaiya is black and white; and while it could have meant simplicity, the lack of grey shades often ends up as an over-simplification of issues. A slight reminder of Salman Khan and Bhagyashree's Maine Pyaar Kiya, this not a film for everyone but it clearly has the makings of a mass-entertainer.
Although its runtime of two hours and 28 minutes makes you check your watch every once in a while, the film is bearable while it lasts.
All in all, Ramaiya Vastavaiya will leave you with a couple of good laughs, if nothing else.
Rediff Rating: