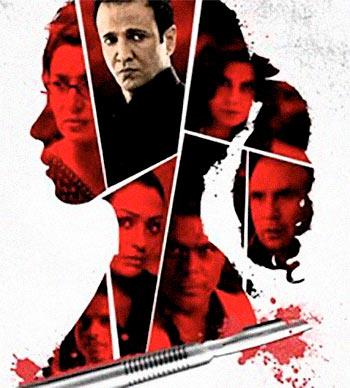 Atmospheric chills and a good story your thing? Watch Rahasya, suggests Nishi Tiwari.
When Dr Rajesh and his wife Nupur emerged as prime suspects in the 2008 twin murders of their teen daughter Aarushi and their domestic help Hemraj, the news made nationwide headlines.
While the media chased the story with a rare doggedness, readers were instantly hooked and lapped up every salacious detail of the case that unraveled like the perfect whodunit.

Only this was all real.
While after many twists and turns, the Talwars were convicted by a special CBI court in 2013 for the twin murders and given life term, filmmaker Manish Gupta (of The Stoneman Murders fame) decided to make a movie inspired from this real life murder mystery.
The film has borrowed key events from the murder case -- the setting of the murder, the investigating authorities being periodically suspicious of the missing domestic help and the parents, among others. But it refrains from providing a commentary on the incident, instead choosing to incorporate cinematic liberties to take over where the inspired bits are restricted.
With Ashish Vidyarth as Dr Sachin Mahajan (Rajesh Talwar), Tisca Chopra as his orthopedic surgeon wife Dr Aarti Mahajan (Nupur Talwar), Meeta Vashishth as a family friend who is having an extra marital affair with Sachin, and Kay Kay Menon as the CBI officer investigating the case, Rahasya boasts of impressive performances.

At a little under two hours, this tightly edited whodunit will hold your attention until the very end, while it haunts, intrigues and scares at the same time with rare ease.

The Mahajan's house, a very posh duplex in a tony Mumbai neighbourhood, is awash in everything white -- the majestic yet ghostly drapes (which, inexplicably, feature in almost all houses that we see in the film), the furnishings, the walls.

I mean it's all as white and listless as death itself.
The great visuals are amply aided by eerie silences, gray skies, understated background score, minimalistic settings (they don't go overboard even while capturing squalor) -- they are all as ubiquitous as atmospheric chills on screen can get.
Ashish Vidyarthi as the wrongly implicated father is suitably befuddled, grieving and unraveling as and when the story demands while Tisca Chopra delivers a restrained performance.

Kay Kay Menon, who played a hot-headed cop in Manish Gupta's directorial debut The Stoneman Murders, plays the investigating CBI official with a flair that we are all too familiar with.
Watch this one if a clever whodunit is your thing.
Rediff Rating: