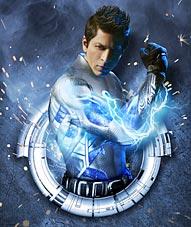 Sukanya Verma writes Ra.One has a grand soundtrack. Post YOUR reviews here!

There's a new showman in town. And he power dresses as a superhero.

While much is at stake with Shah Rukh Khan pulling all stops in making his debut as a rubber suit-clad saviour with neon blue contacts a no-holds-barred sci-fi extravaganza, Ra.One is generating ample curiosity, among fans *and* haters, to ensure a major opening. Only its equally enormous budget will take more than a whopping figure or a much-publicised six pack to break even and out.
Box office fickleness aside, Ra.One, a clever word play on the mythological villain and scientific model Random Access: Version One follows the classic good-versus-evil theme yet draws visible inspiration from Hollywood's money-minting franchise of men in masks.
Directed by Anubhav Sinha (Tum Bin, Dus), Ra.One, co-starring Kareena Kapoor and Arjun Rampal in the titular role, is all set for an October 26 release. While we await SRK's return to big screen after a year-long gap, post-My Name is Khan, here's a look at its highly-anticipated soundtrack by Vishal-Shekhar against Atahar Panchi, Vishal Dadlani and Kumaar's penmanship.
It all begins with Aliaune Damala Bouga Time Puru Nacka Lu Lu Lu Badara Akon Thiam, better known by his shorter and sweeter moniker, Akon. The international R&B artist floors you with his free-flowing Hindi, (even when mouthing pedestrian lines like Tere picture ka main hero) and passionate rendition of V-S's insanely addictive, Chammak challo.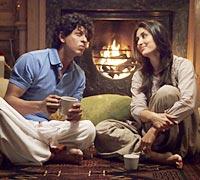 A scorching mishmash of Arabic influences and Bollywood-style bhangra amid Hamsika Iyer's swiftly-pronounced Tamil lyrics, the showstopper song's perfectly-timed arrangement and vivacious rhythm makes it a win-win. Given Chammak challo's infectious temperament, it's only fair it should feature multiple times in all its numerous remixed avatars.
The heard-before sentiment takes a backseat as soon as you realise Dildaara is a legally purchased albeit altered edition of Ben E King's Stand By Me. Despite an awkwardly inserted chorus, the original's emotional essence coupled with Shafqat Amanat Ali's silky smooth vocals ensures Dildaara a play-it-again designation.
Nothing quite like another shot of Akon though. As if on cue, the sensational voice behind 'Smack that' makes yet another high-adrenalin appearance, joined by Shruti Pathak and Dadlani, in the utterly hip and electronic-meets-dhinchak sounds of floor-burner Criminal, remixed or otherwise. Cannot help wondering how A R Rahman would have been the second best option to perform in Akon's absence. Their voices have a strikingly similar structure.
When choir meets classical, it results in an intense concoction called Bhare naina. Even as Vishal-Shekhar cram the tempo with exaggerated orchestration, it is Nandini Srikar's compelling, intricate delivery at conveying pathos and estrangement that makes Naina truly haunting. The lady behind several catchy jingles owns the song.
Speaking of which, Siddharath Coutto's peppy yet monotonous Right by your side feels straight out of a bike or cellphone commercial. Wishing for Chammak challo, already? Me too.
Wiping any trace of ho-hum caused by Right by, composer duo Vishal and Shekhar get behind the microphone to serve a fancy, fast-paced retro cocktail  of RD Burman's memorably wild creations -- Piya tu ab to aaja (Caravan) and Duniya mein (Apna Desh) against a speeding train-inspired arrangement and Ra.One's recurring theme, aptly titled, Raftaarein. Quite a tribute, this. Works too.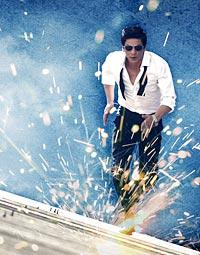 Enter the desi Matrix where semi-industrial rock-meets-trance-meets-funk-meets-Hindustani classical in Chase), a giddy and groovy mixed bag of musical genres and extremes. Props to Sukhwinder Singh and Vishal for their dynamic efforts in projecting these contrasts.
Swagger, heroism, fantasy, panache are the driving elements of a superhero caper's signature tune. And while there are strong undertones of 007, Batman, Spiderman, Ocean's Eleven, Harry Potter and Inception in the soundtrack's final three thematic pieces -- Comes the light, I'm on and Song of the end, Vishal-Shekhar eventually succeed in emulating that all-important larger-than-life appeal.
There's no denying this. Ra.One, with all its pomp and pizzazz, is a thoroughly enjoyable soundtrack. It's grand. It's great. It's, well, give it a shot.
Rediff Rating:


Listen to Ra.One songs here!