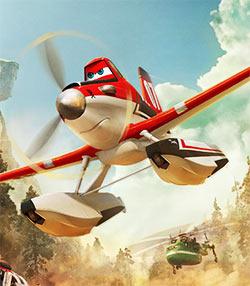 It becomes quite clear early on in Planes 2 that it was made in order to keep the franchise alive, says Paloma Sharma.

Sequel to Planes (2013), and yet another spin-off of Pixar's Cars franchise, Planes: Fire and Rescue follows the tradition of Title Tells All.

The film keeps its title's promise and has animated planes swooping down into forest fires to save the day.
Dusty Crophopper (Dane Cook) had finally achieved his dream of becoming a racing champion in the first installment of the series.

However, in Planes: Fire and Rescue, he finds out that he may never race again, thanks to his damaged engine.
A dejected Dusty almost gives up hope until he meets Blade Ranger (Ed Harris), a veteran fire and rescue helicopter, and joins his team of daredevils who call themselves The Smokejumpers and fight massive forest fires.

Dusty finds it difficult to cope with the absence of his racing glory but learns, in time, the meaning of true courage.
Despite the background that it comes from, Planes: Fire and Rescue refrains from becoming overly (read: annoyingly) cheerful.

Dusty Crophopper isn't just a happy-go-luck plane with self-image issues. He's an internationally renowned racing star who is faced with crushing defeat at the hands of a mechanical injury.
Planes: Fire and Rescue gets off to an interesting start and you secretly applaud the makers of the film for being brave enough to get the message across to the kids who will be watching, that everything doesn't magically get better, but sadly, predictably, the film slips back into the same old Disney-Pixar structure.
The Smokejumpers are an interesting addition to the franchise.

However, it is Julie Bowen's Lil' Dipper who stands out (for all the wrong reasons).

While Cook and Harris deliver decent performances, it becomes difficult to decide whether it is Bowen's voiceover or the star-struck Super Scooper plane that gets on your nerves.
Planes: Fire and Rescue features more action than its prequel, with amazingly animated massive forest fires, but struggles with keeping the humour fresh.

Not much attention has been paid to character development and it starts to look like some of the characters were included just so they could be made fun of.

The dialogues have been overloaded with pun and it stops being amusing after a while.
While the film attempts to refrain from frivolity, it does tend to take itself a little too seriously at times and while paying tribute to firefighters is a good thing, Planes: Fire and Rescue takes this tribute to Singham levels of absurdity.
Let's face it, from the moment it began, we all knew that the film was going to have a happy ending but at least it keeps you interested enough to see how said happiness was achieved.
The film begins well but doesn't live up to the expectations it builds up.

Although I would like to think otherwise, Planes: Fire and Rescue was made in order to keep the franchise alive.

It was clearly not a labour of love and it doesn't really care where the script is headed to, as long as it fulfills its target audiences' need for instant gratification.

Planes: Fire and Rescue seems to be too high on fuel to be able to walk the straight line of consistent storytelling.

Rediff Rating: