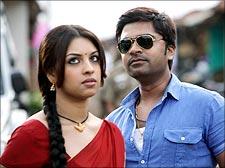 Pavithra Srinivasan writes that Tamil film Osthe -- remade from Salman Khan's blockbuster Dabangg -- takes itself too serious and misses the plot.

'What you have seen so far, is gusthi fight. From now on, it's osthi fight!' Cue for the film's superman, Tamil Nadu police Osthe Velan (Simbhu, or STR as he now styles himself) to promptly send any number of goons packing.

Also, cue for him to suddenly run full-tilt into an introductory song in the fashion of the best masala films, with every single cliché in glorious evidence: the stupid cop sidekicks, the villain, also with a bunch of sidekicks (and, it must be admitted, who looks vastly more handsome than the hero himself), the pretty heroine who walks about in impossibly low-cut blouses and revealing saris; mother-father sentiments with a step-sibling thrown in for good measure -- the list is endless.
And yet, Osthe, the Tamil remake of Hindi's blockbuster Dabangg doesn't really carry out the promise the way its original did. You wonder where exactly the problem lies, in this Balaji Real Media Pvt Ltd version directed by potboiler expert Dharani.
Osthe starts out, like every self-respecting commercial entertainer, with a flashback: Velan and Balan are step-brothers, with their own issues at home. Subbiah (Nasser) favours his own son, born to his wife (Revathy), while she tries, in vain, to reconcile her firstborn Velan to her second, all to no avail. The problems continue all the way to adulthood: Subbiah's oil-mill isn't doing well; son Balan (Jithan Ramesh) is now a ne'er-do-well, while Velan has grown into a dashing police-officer.
And of course, Velan does his best to rule Kattuppakkam, in the Thirunelveli district, in his own way: he delivers a sort of rough-and-ready justice, and pretty soon, makes an enemy out of Boxer Daniel (Sonu Sood), who aims to make it big in politics. They clash -- again, and again, and again, and again -- until you're ready to tear your hair out in frustration.
Also, there's the romantic angle: Neduvali (Richa Gangopadhyay), who Velan meets in her hut – and falls for, in seconds. In fact, it can safely be said that these are some of the very few moments that are actually engaging, in the film.
By this time, you realise exactly why Dabangg clicked, and Osthe barely engages your attention: the Hindi original carried its own brand of humour, even moments of subtlety, and was aware of what it was providing its viewers -- just the right brand of spice with Salman Khan's fantastic performance.
And while STR does do his flamboyant best, spouts punch dialogues by the dozen and dances with style -- there's a point when he steps from being Osthe Velan, the larger-than-life hero, to STR himself. The punch is missing; his presence doesn't carry as much weight. Dharani pulls out all stops and produces twists and turns, but they simply don't gel. The dialogues, spoken laboriously in the Nellai slang, actually make you squirm. Adding a 'la' after every sentence does not make it work.
Richa is supposedly a pretty village belle, and she is pretty -- which is all can be said of her blink-and-miss performance. Santhanam provides the requite one-liners which, somehow, don't really work, after the first one hour.
Sonu Sood is magnificent in his presence, and you feel he deserves more than being the eternal villain. Jithan Ramesh is rather colourless, and so is Saranya Mohan. On the other hand, it's not their fault, but the screenplay's. 
Thaman's music is the right blend of sound and fury, and works for this entertainer -- but Kalasala, though it raises whistles, is no Munni Badnaam Hui. V T Vijayan's editing could have been better, while Gopinath's camera work, again, showcases its hero larger than life. Which is all that can be said of it. The art direction and costumes, frankly, remind you more of North India than Thirunelveli and fail the most.
Osthe may aim to deliver an exaggerated masala mix -- but that works only when subtlety also forms a part of the narrative. And there's definitely nothing even remotely subtle about this film. Films like these aren't really rare, here: every alternate movie is about superheroes that romance pretty girls and take on a hundred goons at once; they always win, always yell punch dialogues, respect their parents and live happily ever after.
Truth is -- there's absolutely nothing new. Osthe lacks the panache and quirkiness that made its original work.
Rediff Rating: