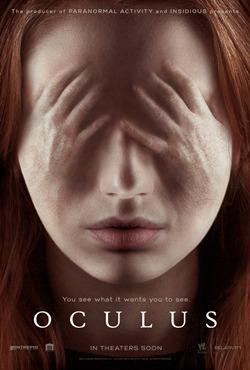 Oculus could have done better with tighter editing, says Paloma Sharma.

The mirror is evil.
The Lasser Glass is a mirror of mysterious origins. It has a recorded history of 400 years, as found during Kaylie Russell's (Karen Gillan) extensive research, during which it killed at least 45 people.

Kaylie's family were among its victims.
At the ages of 13 and 11 respectively, the Russell siblings, Kaylie and Tim, watch the mirror enter their home. What they don't see is the entity that enters with it -- at least not until it is too late.
To the outside world, Mr and Mrs Russell's gruesome double murder was caused by a marriage gone horribly wrong but only Kaylie and Tim know what truly transpired that night.

According to the official version of events, Tim had shot his father after he tortured and killed their mother. Tim is taken to a mental institution where nobody believes him when he speaks of the fifth presence that was in their home when his parents were murdered.
Before Kaylie and Tim were separated by the authorities, they made a pact to return and avenge their parents' deaths but when they do return, ten years later, they aren't the only ones who have gotten stronger.
The mirror is ready to claim more victims.
Despite being brilliantly cast and packed with some powerful performances, especially from child actors Annalise Basso and Garrett Ryan, Oculus will only keep you right on the edge of your seat but doesn't really take it to the next level.
The horror tricks are few and far between, making the viewer impatient at times, to the point of becoming uninterested.

Director Mike Flanagan has completely ignored the sound department on this one. Sharp violins and soulful cellos are essential to any non-slasher horror flick. Without the right sound, Flanagan leaves one of the five senses unafraid.
The narrative is beautifully non-linear and although confusing at times, it shows how tightly Flanagan weaves his tale. However, Oculus could have been edited a lot better.
The film runs a little too long to keep you engaged, almost feeling torturous towards the end (and not in the good way), even though it is only about a 100 minutes long.
Oculus is a story that has its fair share of goosebump-inducing moments but it would have been told better if it were cut short.

Rediff Rating: