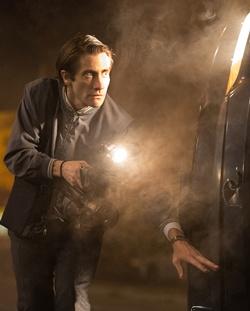 It is difficult to find fault with a film so engrossing, notes Paloma Sharma after watching Jake Gyllenhaal starrer Nightcrawler.

Writer-director Dan Gilroy takes something as simple as the morning news and peels back the dusty cellophane that was taped to the surface, revealing maggots that feed on the rot inside, in his directorial debut, Nightcrawler.
Louis, a skilled thief, desperately wants to leave behind his faceless, stagnant existence and find himself a job somewhere (read: anywhere) but his lack of a formal education and his current profession prevent him from doing so.
One night, when he comes across a camera crew filming an accident, Louis finds his calling.
Louis manages to purchase a camera and begins to film gruesome crimes/accidents in affluent neighbourhoods and sells the tape to a local news channel.
But in the world of nightcrawling, there are too many cameras and too little violent crime.

Exclusives are rare and Louis, being the self professed quick learner that he is, soon realises that when sensational news isn't available, it must be manufactured.
Nightcrawler is a dark, satirical take on the world of television journalism and how easily fear sells.
Aided by simple yet effective sound design, Nightcrawler questions the relevance of morals in the news/entertainment industry and leaves the audience to look within to seek answers.
While Nightcrawler is clearly a one man show, it is the script that emerges as the star.

The dialouge is witty, quick and humorous -- often added by Gyllenhaal's character's obsession with self-help and online educational courses, his social awkwardness and his tendency to talk like he's quoting a textbook.
Beautifully edited and extremely engaging, the film let's you know early on that if you risk blinking, you're going to miss out on something important.
Gilroy doesn't waste a second of the footage on anything but the bare essentials, as he steers, with what one can safely assume are iron hands in velvet gloves, the story to a highly anticipated climax and then, suddenly, let's go of the wheel -- watching his handiwork collapse in an exquisite dance of destruction, like dominoes falling simultaneously in the wind.
It wouldn't surprise me if Nightcrawler crawled its way to an Oscar (if not more).
In all honesty, the film is a 117-minute long headache.

There's no way anyone can walk out of the cinema hall without being weighed down by the knowledge of the part that each of us play in a system where the only news that matters is a young woman of an affluent group lying in a pool of her own blood (and it only gets more interesting when the crime appears to have been committed by someone from a section of the demographic that isn't as well off as that which the victim belongs to).
In what is easily his finest performance yet, Jake Gyllenhaal assumes a completely new form, transforming into a person so different from anyone else we've ever seen him play before that it takes some time to recognise him.
Backed up by strong performances by Riz Ahmed (as Rick) and Rene Russo (as Nina), Gyllenhaal does a marvelous job of being an air of absolute normalcy to the borderline obsessive compulsive, sociopathic Louis.

Just the way that he walks out of the police station in the last scene, with such nonchalance is bound to send shivers down your spine as you slowly begin to realise that the many Louis Blooms of the world walk among us.
It is difficult to find fault with a film so engrossing.

Perhaps what keeps one glued to Nightcrawler is the marvel that one is bound to feel at one's inability to dislike such a clearly diabolic character.
There's something beguilingly vulnerable in the wide blue eyes of Louis Bloom and though you will find him likeable at first, its his (and Gyllenhaal's) ability to gain your trust that will leave you disturbed.

Rediff Rating: