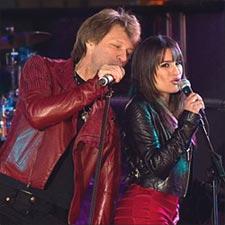 Despite many glitches, New year's Eve has a warmth about it, says Ankur Pathak.

New Year's Eve
is one of those films where the overwhelming star presence makes the film's poster grossly insufficient to accommodate them all, unimaginatively letting the design resort to thumbnail sized pictures of the ensemble. But what is also reduced to a similarly diminutive size in this new film by director Gary Marshall is each character's part.  
Cluttered with just too many beautiful people,
New Year's Eve
struggles to instill life-affirming feelings in viewers.
Most of the stars in the film look like they've been discharged from rehab but are showing symptoms that would get them wheeled right back in.
So, Hilary Swank plays the Times Square Alliance vice president (or somebody) who monitors the Times Square ball's smooth proceedings, all the while hiding her own worry. Ashton Kutcher plays the guy who is trapped in an elevator with
Glee
's Lea Michele, and is willfully alienated from the year-end celebration, discarding it as 'amateur'.
Katherine Heighl is a high-profile chef dumped by her rockstar boyfriend before "she could unpack the first bag of groceries." She's armed with Sophia Vergara (
Modern Family
) who is hilariously adorable and relieves the film from some of its sombreness.
Russell
Peters is another sidekick. There are about half a dozen other, similarly caricatured characters. Like Ryan Seacrest playing himself, a high-profile person who's a loner at heart, despite getting sufficient female attention. Or Sarah Jessica Parker's over-protective mother act. 
All these stories are laboriously intertwined, some surprisingly so, most ridiculously so. There is so much happening at one time, that Marshall cannot dedicate enough screen-time to adequately flesh-out even two stories.
There is even a Zac Efron track, where he plays a courier boy, who fulfils Michelle Pfeffier's New Year resolutions. One crazy sequence involves the duo running across the globe in a museum, later proudly checking out "See the world" item from their to-do list.
The film is filled with one-liners which are frequently funny only because of their sheer cheesiness.
Although the film doesn't boast of a single distinctive performance,
New Year's Eve
does have a warmth about it, which is largely to do with the New York setting, and that friendly feeling, fake though it may be, that occurs in the month of December.
Rediff Rating: