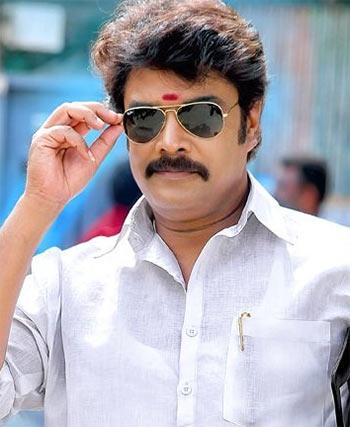 Muthina Kathirikai is an ordinary attempt with lackluster performances, weak screenplay and an overly enthusiastic cast, feels S Saraswathi.
Muthina Kathirikai is the Tamil remake of Biju Menon's hit Malayalam movie Vellimoonga, and stars director Sundar C and Poonam Bajwa.
The film is directed by Venkat, a former associate of Sundar C and is produced by his wife Kushboo Sundar under the Avni Cinemax banner.
Muthina Kathirikai is a term used mostly to refer to a man past his prime and yet single. Sundar C, the protagonist in the film plays Muthupandi, a 40-year-old unmarried politician.
The responsibility of his family after the death of his father forces him to remain a bachelor.
He belongs to a National political party that is not recognised in his small village and is often ridiculed by the other local parties.
Muthupandi is also constantly teased about his increasing age and bleak marriage prospects.
But unmindful of all the taunts, he continues to scheme his way up the political ladder with the aim of winning a ministerial post.
Maya (Poonam Bajwa) comes into his life and it is love at first sight for Muthupandi. But she is far too young for him.
To add to his troubles, he soon realises that Maya's mother (yesteryear actress Kiran Rathod) was his girlfriend during his school days.
Meanwhile, local political bigwigs played by VTV Ganesh and comedy actor Singampuli continue to make his life difficult.
How Muthupandi manages to fulfill his political ambitions, while also winning over the girl he loves forms the rest of the story.
Despite the interesting premise, the film barely holds your attention. Every character tries too hard to be funny, and ends up annoying instead.
The brief moments of fun are overshadowed by the over enthusiasm and exuberance of its actors.
Comedy actor Sathish, who plays Sundar's friend and confidant, has a substantial role but he ruins it with his lackluster performance.
VTV Ganesh and Singampuli just seem to go on and on with their long, meaningless dialogues.
Poonam Bajwa and Kiran Rathod have nothing to do.
Sundar C tries hard to keep things moving, and the role does seem to be apt for him, but he is not very convincing.
There is very little to be said about Siddharth Vipin's music and cinematography by Bhanu Murugan.
The narrative is slow and tedious and even at two hours 10 minutes, the film seems awfully long.
The Malayalam version of the film may have worked but debutant director Venkat's Muthina Kathirikai is an ordinary attempt with lackluster performances, weak screenplay and an overly enthusiastic cast.
Rediff Rating: