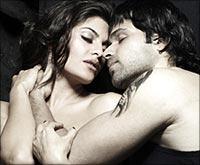 Raja Sen refrains from writing a regular review for the disaster that is Murder 2. Post YOUR reviews here!
A lazy serial killer is just a damned shame. Deranged or psychopathic or just plain fastidious, the whole point of serial-ised killers is the fact that they make murder into a macabre art form -- at least in their own eyes -- via constant repetition. It is with the rituals we create for ourselves that we must never compromise, and a man who collects teenage girls' eyelids, for example, is nothing if not a stickler for tradition.
Which is why when we see mere inconvenience turning a demented nutjob with a definite pattern of savagery into just another lazy hack with a sharp knife and an agenda, we lose interest. Where else can we find it? In leading man Emraan Hashmi, playing a rogue cop whose 'investigations' would be shamed by the old man from
CID
? In Jacqueline Fernandes, playing a skinfriendly model with more pancake-makeup
than sex appeal?
Nope, I'll pass.
The first
Murder
worked because of a molten Mallika Sherawat, the genuinely raw chemistry between her and Hashmi, and director Anurag Basu keeping things taut. It was a ripoff, sure, but a darned effective one.  
Murder 2
is flat, boring and not worth talking about. Even Emraan, sporting less stubble than usual, seems babyfaced as he goes through the motions. It might be inspired by some obscure film, but I don't even care enough to look for its name. By now, I've come to accept that the Bhatts have a bigger DVD collection than me. I do wish they'd stop flaunting it, though.
Rediff Rating
: