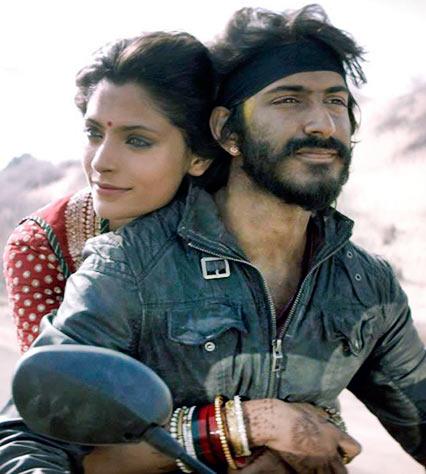 Neither the intense-because-we-say-it-is romance running through Mirzya or the soft-focus-myth is actually interesting, feels Raja Sen.
Hindi movies of a certain vintage used to feature an opening credit titled 'And Above All', a billing higher than the hero-heroine credits. An ultimate credit, if you will.
It was reserved for giant stars, big actors taking on slightly off-centre roles, or actors too popular to be anything but the biggest. Amitabh Bachchan, Pran, Dharmendra... all got several of these in their day.
If we were to apply the same to Mirzya -- which tries to channel the soul of a certain vintage kind of cinema -- then, after debutant actors Harshvardhan Kapoor and Saiyami Kher, the Above-All should go to Daler Mehndi.
This is because while we admittedly don't see the singer in Rakeysh Omprakash Mehra's grandiose romance, it is Mehndi who pops up every few scenes, bellowing some impassioned fragment of song, sounding like he's stepped on a Lego.
It is this frantic need to leap from crescendo to crescendo that damns Mehra's ambitious but ultimately silly film, one that wants desperately to be a sprawling epic and ends up some desktop wallpaper.
To be fair, the film is visually arresting.
Shot by Polish cinematographer Pawel Dyllus, Mirzyafrequently looks spectacular but -- thanks to the constantly overwrought and operatic treatment -- Dyllus' frames often jar against each other.
There is much showboating and little heart in this film, and while this makes for a fine calendar-style shoot for Saiyami, it doesn't come close to being a compelling romance.
The script -- by the one and only Gulzar -- never lets us get close to, or care for, the characters who, in turn, come across selfish and juvenile.
There is a significant Sanjay Leela Bhansali hangover to it all; try and imagine Goliyon Ki Rasleela Ramleela without the sexual chemistry.
Mirzya tells its mythical romantic story on two levels.
One is an abstraction, set on a dreamscape where everything is immaculate and shot in slow-motion, where the horses look great and warriors who look like underfed Khals chase our masked hero while Saiyami glowers at everything, looking absolutely radiant.
The first shots of her are sensational, almost enough to make up for the tacky visual effects animating arrows and clay pigeons.
Alongside this flashback we are told the modern-day love story set in Rajasthan between a princess and -- as paperbacks would have it -- her stable-boy.
Mehra kicks things off intriguingly.
The film opens with a blacksmith, narrating and forging a horseshoe as he talks, only to segue into a song using the rhythm and percussive power of the smithy to find its beat, like something out of Stomp.
Soon, kids go to school in the morning but set to a rousing background score, making for an interesting juxtaposition between the epic and the everyday.
Is Mehra trying to show us that anything can be momentous?
A little boy and a little girl walk to school together and try to hoodwink a mathematics teacher. It is all sweet -- even cloyingly sweet -- till he walks her home. Here sits her father, cleaning his gun.
Played by Art Malik, this policeman pop with an impressive moustache tries to be a warm part of the narrative, but he doesn't know what the children are hiding.
Things get... dramatic.
Mehra piles up the intensity, and, as the film is strung higher and higher, the characters go through the motions while the filmmaker keeps cutting to shots of angry men watching contorting dancers by firelight, or some such imagery.
Gulzar's lyrics may be poetic and the songs by Shankar-Ehsaan-Loy individually intriguing, but Mehra throws them in our face -- once even accompanied by the sound and visual of several blouse-clad women snapping their fingers in unison.
It all gets exhaustingly Baz Luhrmann for a while. (And 'Moulin Mehndi' might not have been what anybody signed up for.)
The story is paper-thin, and the reason we can't say much about the debut actors -- save for Saiyami's striking presence -- is that they are given bewilderingly little to do.
Harshvardhan Kapoor struts around, fine on a horse in slow-motion, but emerges harmless, at best, in a narrative that demands a god of a hero. Kher looks great but the modulation of her lines is inconsistent.
His too, in fact, is peppered with awkwardly timed pauses.
Overtly theatrical cinema needs actors who can embrace the material and make it sing, but all we have here is a highly effective Anjali Patil (who seems to have missed the don't-bother-to-act memo) and K K Raina with a well-trimmed beard, looking like a sophisticated Chacha Choudhary.
Neither this intense-because-we-say-it-is romance running through the film or the soft-focus-myth is actually interesting, and -- shorn of love, or moments -- Mehra's film begins to grate quite early on.
There is no reason to champion these immature lovers, and their struggle seems both needless and predictable.
There was promise here. Despite the routinely bombastic visuals, the one shot that stays with me is a simply lyrical one, an elegant close-up of Saiyami biting a sweet that brings back memories and of the laddoo, after even that perfunctory nibble, leaving its sesame traces on her lips. That softness is but too fleeting.
The film spends much longer on a scene where Malik, as the girl's father, glugs too much whiskey, goes into high melodrama, and then, comically, falls to the floor in a peculiar swoon.
Sounds about right: Mirzya is a film where Art gets drunk, creates a scene and passes out.
Rediff Rating: