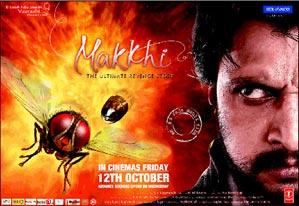 Ankur Pathak feels Makkhi is a visual delight.
Makkhi
, which was released in the original Telugu version as
Eega
in July this year, is a meticulously crafted live-action film brimming with conceptual originality.
It boasts of delightful CGI-integrated action with the theme of vengeance. 
The Hindi dubbing is superficial and substandard but that doesn't matter much.
The film has a wafer-thin plot, which in a way is good as it actually eliminates the need to process the dialogues in the first place. This is because
Makkhi
is visually explanatory, and stunningly so. 
The intricacies of detail are remarkable. Like when the super-fly is attacked by a lethal spray, one can actually spot the chemical rinse off its body. 
The super-fly at the heart of all the action is a Hindi film songs-loving reincarnation of Jani, a young fireworks maker who is brutally murdered by a womanising industrialist.
Jani's romance with the NGO-running Bindhu was about to take off after a two-year struggle, but is fatally interrupted by the villainous Sudeep.  
Reborn as the fly, Jani seeks revenge as he had sworn to do just before his death. 
'
Makkhi hoon main makkhi, sair kar narak ki. Meri ek nazar se tune maut chakhhi,
' he warns. 
Makkhi stays true to his words as he annoys the buzzing daylights out of Sudeep by shadowing him like a dreaded psychopathic stalker who won't relent unless his revenge is complete. We root for the fly as he employs one smart tactic after another, making Sudeep's life resemble a post-apocalyptic
nightmare. 
The camera work is beyond belief. The makers have used Scorpio cams to capture complex shots. The result is a mind-blowing rampage of uniquely filmed scenes.  
But it's not just all about a fly destroying infrastructure. Themes of jealousy and vengeance, of losing out due to indecisiveness, of survival and bad karma hitting back in the most confounding forms are deftly interwoven. 
At its heart,
Makkhi
  is a love story that never got the life it deserved. Jani remains a friendly stalker to Bindu in his lifetime and is reunited with her as the fly -- again a constant companion, a watchful protector. 
At the centre of the commotion is the target, Sudeep, who gives a frighteningly realistic performance of a man haunted by an inexplicable force. His expressions and body language are spot on, and one shudders at the reign of terror unleashed against him. 
The length of the film plays spoilsport.
Makkhi
could have been a far more engaging product had it eliminated the last 20 minutes which just stretch out the film. A suitable closure could have been achieved earlier. 
But overall, this super-fly is a super-stud, a bee-sized package that promises definite entertainment which even the so called larger-than-life superstars fail to achieve or achieve at a highly superficial level. 
Director S S Rajamouli and Kotagiri Venkateshwar Rao, who handled the editing and camera work, and the entire team deserves thundering applause.
Rediff Rating: