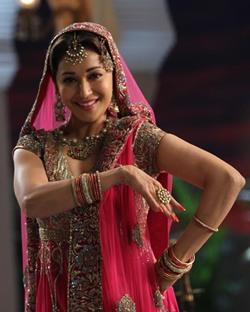 Raja Sen feels Dedh Ishqiya is a genuinely smart film.

Public recitation is as fine an art as poetry itself, and -- like in a magic trick -- so much depends on the reveal, on teasing the audience into expecting a certain completion to the thought, a certain rhyme, and then to deny them that (but with a flourish.)

It is this taunting of the listener that makes shayri so special, the wizards of Urdu repeating their half-lines over and over, forcing those present to fork over applause even before the punch line.

And when that final line falls into place just right, surprisingly and cleverly, the abracadabra moment is one of rapture.

Abhishek Chaubey's Dedh Ishqiya, true to its fractional title, lives for those half-lines, teasing and wheedling and coaxing its audience so that we fall in love even before the charms of the final act are upon us.

Calling a film "One and a half" instead of "Two" could signal varied intent -- including tributes to Federico Fellini and/or the Naked Gun franchise -- but I'd like to believe Chaubey's superb sophomore effort shies away from the obvious name because it'd rather be called an equal than a sequel.

Rarely is a Hindi film as mischievously besotted with wordplay, but one look at Chaubey's co-conspirators confirms that no syllable has been picked accidentally. In this sleight-of-hand tale where gangsters point with iambic-meter before pointing with guns, Chaubey has master wordsmiths Vishal Bhardwaj and Gulzar alongside him, making for a script that balances words as deftly -- and, crucially, with as much nervous energy -- as a knife-juggler with a case of the hiccups.

It's a marvel.

(It's also a marvel we may not have been able to understand. Most of us, even those who drop stray Urdu words into conversation, could scarcely navigate the many nuances on offer without the sharp subtitling job. Having the lines present in spirited (and non-literal) translations helps enormously, and it's a very wise decision to keep the subtitles around even for us Hindi-speaking philistines.)

Set in the fictional town of Mahmudabad, the film sees returning anti-heroes Babban and his dear Khalujaan Iftekhaar back and, as ever, on the run.

The two ignoble opportunists are, in a way, like a very amoral Asterix and Obelix: one shrewdly has his eye on the prize while the other frequently squanders his menhirs in the name of love. Questing thus for inaam and inamorata, the leads -- played by Arshad Warsi and Naseeruddin Shah -- wade through increasingly muddy waters.

Yet is it fair to call these lovable oafs the leads? For this is the tale also of an enchantress, a bonafide beauty whose gorgeousness and fortune brings forth many a suitor from across the land, poetry-lined notebooks in hand.

Because, you see, this winsome widow wants to be charmed by couplets, swept away by sentences, ribbed by rhyme. And thus we have a swayamvara where instead of bows and arrows -- as her sassy handmaiden explains -- a line must
be tossed into the air and a challenger must shoot it down with a lyric. The one and only Madhuri Dixit is the suitably unattainable lady in question, with Huma Qureshi as her first mate, so to speak.
Speaking of challengers, however,
Dedh Ishqiya
may perhaps be the story not of the first-billed impostors or either woman, but of the yearning lover who kidnaps poets to furnish his chance at romance.
A slaphappy politician who is a bully, one suspects, because brooding isn't considered macho enough. A plum role played masterfully by the scene-stealing Vijay Raaz, this gent too is part of the mix, then, putting the 'verse' in 'adversary.'
Voila, what an ensemble.
Unlike the first
Ishqiya
which was -- even to those like me who loved it -- at best a glorious mess, the plot this time, while rollicking enough, is fiendishly simple. The focus, instead, is on the characters.
And, as mentioned, on what exactly they say.
A fair bit of the film admittedly takes its time staring at Madhuri, and this is no complaint for the legend gleams brighter than we're used to seeing in our movies nowadays.
She's old-world, breathtaking and so utterly graceful it's like someone draped a saree around a Rolls Royce. Her performance -- one that demands small, precise shifts in tone instead of showy histrionics -- is pitched perfectly. And it's a privilege to see her dance the classics.
The actors are uniformly smashing.
Naseeruddin Shah is great, wistful and dreamy and unashamedly wicked, chewing luxuriantly on the dialogues as if they came wrapped in betel-leaf.
Arshad Warsi has always been instantly loveable, but he equips his character with a flammable fury that makes him very compelling indeed. Huma Qureshi uses her fiercely intelligent eyes to great effect as she keeps things unpredictable, while Manoj Pahwa and Salman Shahid make themselves impressively indispensable with mere scraps of screen-time.
And then there's Vijay Raaz. Too often do we Hindi cinema audiences unfairly sideline villains and comedians, but here is a gem of a part, a truly meaty role -- the kind of character that, in a Hollywood film, would have been played by Christian Bale or Javier Bardem -- and Raaz sinks his teeth into it magnificently.
A lanky man given a leonine mane, Raaz here looks disconcertingly like the director himself, and it may even be this doppelgangering that sees his character so well-etched.
He performs with an all-knowing weariness so masterfully that he emerges not just a memorable villain, but, like the most memorable villains of all, impossible to root against.
This is a rare joy.
It's a genuinely smart film. It's beautifully, lovingly shot.
The music aids the narrative instead of distractingly taking it hostage. It's the most quotable Hindi movie in years.
It's a sequel that leaves even a highly original first-part far behind.
And, for a film so accessible, it's armed with the most cunning, most delicious twist. It's terrific -- and a half.
Dedhriffic, then.
Rediff Rating: