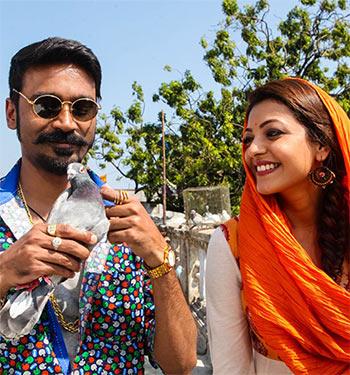 Director Balaji Mohan's Maari is just another mass masala movie created to idolise its hero, writes S Saraswathi
When director Balaji Mohan, who made exceptional films like Kadhalil Sodhappuvathu Yeppadi and Vaayai Moodi Pesavum, got together with the National award-winning Dhanush for their latest venture Maari, expectations were sky high. The trailer too became a rage overnight.
Unfortunately, there is nothing remarkable about the film.
The wit, satire and intrigue of their earlier films is entirely missing.
Based on a flimsy plot, the movie caters to the hardcore fans of Dhanush. Most of the scenes have him swagger in slow-motion to the highly enthusiastic beats of composer Anirudh Ravichander, and casually flicking his cigarette into the air.
Dressed in ridiculously colourful outfits with dark shades, weighed down by gold chains and a laid-back attitude, Dhanush plays the local dada Maari to perfection.
Maari makes a living training racing pigeons and terrorizing the people in the area collecting mamool.
Everyone is fed up with him and his two henchmen, the hilarious Sanikizhamai (Robo Shankar) and Adithaangi (Kallori Vinoth).
Arjun (Vijay Yesudas) is the newly appointed area sub-inspector. He hates Maari's guts and is determined to trap him on a murder charge. The two exchange clever punch dialogues every time they meet.
Meanwhile, Sridevi (Kajal Aggarwal), a fashion designer, is totally out of place in this shabby neighborhood. She is determined to open her own boutique but is constantly harassed by Maari and his goons. She decides to help Arjun collect evidence against Maari.
A video cunningly shot by Sridevi eventually lands Maari in jail.
In the second half, Maari has to fight to get back his control over the neighbourhood.
Though quite predictable, we thankfully don't have any mushy romance. Neither does the hero get emotional or try to turn a new leaf at the behest of his girlfriend.
Kajal Aggarwal does have a significant role to play, but their onscreen chemistry just does not work.
Cinematographer Om Prakash does a good job of capturing the spirit of the crowded, rough, lower-class neighborhood and its peculiar characters.
The background score by Anirudh raises the tempo of the film and is definitely a big plus. He also makes a funny cameo appearance in the film.
Robo Shankar is a laugh riot.
Despite all the bravado, debutant Vijay Yesudas (son of legendary singer KJ Yesudas) appears rather tame compared to the more experienced Dhanush. Dhanush overwhelms him throughout with his effortless performance, taking away the thrill of a good fight.
There is little in the film to keep you engaged, both in the first and second half. The narration lacks any significant twists or turns or characters you can relate to.
Uninspiring and predictable, director Balaji Mohan's Maari is just another mass masala movie created to idolise its hero.
Rediff Rating: