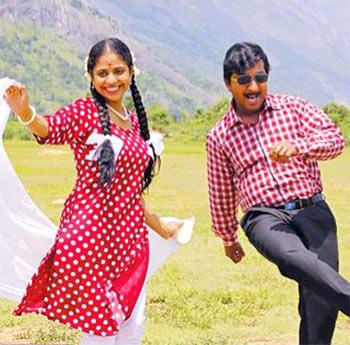 Siblings Vineeth and Dhyan seem to be making a statement on their father Sreenivasan's work in Malayalam cinema, notes Paresh C Palicha.
We have lately been witnessing a lot of young talent in Malayalam cinema that is trying to create a new narrative style.

Basil Joseph tries to do the same with his début feature Kunjiramayanam.

With veteran actor Sreenivasan's two sons -- Vineeth and Dhyan Sreenivasan -- in central roles, the film tells the story of a fictitious village called Desam.

The citizens of this village are dumb and believe all kinds of superstitions.
Kunjiraman (Vineeth Sreenivasan) and Lalu (Dhyan Sreenivasan) are first cousins.

Lalu is the son of Well Done Vasu (Mammukoya) who has made his fortune by working in the Gulf.

Kunjiraman' marriage is fixed with Vasu's daughter, Thankamani. But a small issue between the boys becomes a family feud and the marriage is called off.
Lalu, who is the apple of Vasu's eye is a dimwitted fellow who is finding it difficult to even pass the tenth standard exam even after appearing for it many times.
Kunjiraman's marriage is now fixed with another girl but at the time of engagement, the bride- to- be takes a promise from kunjiraman that he won't touch alcohol from then on.

So, he symbolically breaks a bottle of alcohol. But after he leaves for the Gulf, it comes to light that his favourite drink has become jinxed in the village. Thus this superstition spreads like wildfire.
The unfolding of these events takes a lot of time served with dollops of humour with actors like Aju Varghese, Neeraj Madhav and Deepak Parambol with Dhyan at the forefront.
There are a few inside jokes and subtexts like the mention of Oru Thundu Padam in Biju Menon's narration in the beginning, which is the title of a short film that director Basil Joseph had made a few years back.
Now, coming to the subtexts, siblings Vineeth and Dhyan seem to be making a statement on their father's work in Malayalam cinema, who was always cast as a sidekick of good looking heroes and was the butt of the joke.

Here Vineeth, who resembles his father, plays a smarter, more confident character while the good looking Dhyan, with his gym-toned biceps, is portrayed as a dimwit.
These are the things that keep us interested in proceedings though it tends to get repetitive once in a while. But we can confidently say that Kunjiramayanam is enjoyable.
Rediff Rating: