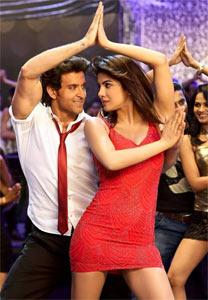 The Krrish 3 soundtrack had to be nothing short of magnificent but it doesn't come anywhere close to that, feels Joginder Tuteja.

There are huge expectations from the music of Krrish 3.

As it turns out, the music scored by Rajesh Roshan, with lyrics by Sameer Anjaan, isn't bad. But then that isn't good enough when you are looking for something spectacular.

The album kick-starts with Krrish Krrish Title and you brace yourselves for a high octane well orchestrated number that would have a cutting edge appeal to it.

Well, the start is actually as per expectations as the musical prelude sets the base.

But the moment singer Mamta Sharma gets behind the mike, the chant of Krrish Krrish begins, and it goes back to the 1980s/90s.

That by itself is not a bad idea since the Roshans had created Jai Maa Kaali (Karan Arjun) in a much more 'desi' mode two decades ago, but the much Westernised version with Anirudh Bhola and Rajesh Roshan coming behind the mike is just okay.

Next to arrive is Raghupati Raghav, which is getting it's fair share of bouquets and brickbats ever since it's release.

It can be stated though that after being heard four to five times, one does get a hang of this Neeraj Sridhar and Monali Thakur number with Bob chipping in as well. A fusion mix that takes a cue from Gandhiji's favourite bhajan and brings on its own Western twist to the tale, this is one number which will continue to gain extreme reactions. But it is unlikely that the song or it's remix would feature in anyone's playlist favourites once the movie is off theatres.

Vintage Rajesh Roshan is on display though with Dil Tu Hi Bataa, the best of the enterprise which does end up making a good impression.
No, not that it is a huge chartbuster in the making but considering the kind of start that the soundtrack of Krrish 3 had taken this Alisha Chinai and Zubeen Garg song does manage to stick by your side.
In fact, more than the composition, which is soft-n-soothing, as one expects from Rajesh Roshan territory, it is Alisha Chinai's vocals that leave the best impression. For a singer who is approaching 50 and still sounds so fresh till date, it is indeed a treat in the original as well as remix.

It is the emotion of disbelief that one goes through once dandiya beats begin proceedings for You Are My Love. With lyrics that intentionally carry a child like appeal, it is all the more surprising to hear Mohit Chauhan coming behind the mike.
Alisha Chinai joins the proceedings once again for this number that appears to be an instant reject in the first couple of hearing. Moreover, neither the 'mukhda' nor the antra impress much, more so due to the composition carrying a quintessential 1990s flavour. However on repeat hearing you get used to the sound that settles down. A lot would now depend on the song's picturisation.

Same holds true for God Allah aur Bhagwan. Appearing as a number where public applauds Krrish during one of his life saving moments, it starts brilliantly due to the kind of grandeur that it carries in it's sound. In fact rest assured, at least the start of the song will sound fantastic in theatres. But once the song continues, even Sonu Nigam and Shreya Ghoshal cannot make the tune rise above the ordinary. With lyrics (again intentional perhaps) on lines of various superhero cartoons that are for the kids, there isn't much to carry beyond the first listening.

As stated in the beginning, the Krrish 3 soundtrack had to be nothing short of magnificent. But it doesn't come anywhere close to that. Though a couple of chartbuster songs would have elevated the musical aspects of the film, an absence of that won't make any difference to the movie watching experience since Krrish 3 as a brand would be enough to sustain and enhance audience interest in what unfolds on screen.

Rediff Rating: