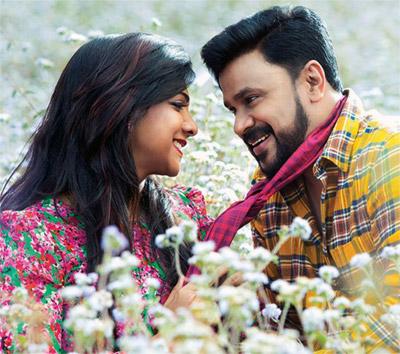 King Liar's story is wafer thin and the effort to hold the viewer's interest does not work beyond a point, feels Paresh C Palicha.
The legendary team of Siddique and Lal reunited after two decades with King Liar, and roped in Dileep as well, and the outcome was supposed to be exceptional.
Lal has directed the film, Siddique has penned the story, and the script is credited to both. Dileep plays the lead, and co-produces the film too.
Unfortunately, the film disappoints.
As the title suggests, the story is about a pathological liar (played by Dileep), who has the ability to convince you that night is actually day. He has an oxymoronic name Sathyanarayan to go with it.
His primary occupation is to make fake degree certificates.
Antappan (Balu Varghese) is his partner in crime.
Sathyanarayan's ambit of lying has no limits, he can go to any extent to gain something that he desires.
He falls in love with Anjali (Madonna Sebastian), an IT professional who once wished to be a fashion model but dropped out due to lack of self confidence.
The first half is littered with incidents of Sathyanarayan weaving lies to woo her.
The story is wafer thin and the effort to stretch it or fill it with something that would keep a viewer interested in the proceedings does not work beyond a point.
The hero becomes a liar because of a traumatic experience in his childhood. Similarly, he and Anjali are connected from their school days. Flashbacks are used to reveal these facts.
A few more characters enter the plot like Anand Varma (Lal) and his wife Devika (Asha Sharath) who own a designer firm Varma Designs. They are on the verge of a divorce and in a battle to wrest ownership of the firm.
Anand, impressed by Sathyan's lying skills, employs him to rescue his marriage.
Sathyan, on the other hand, uses this opportunity to fulfill Anjali's wish to be a model. How he does all this and emerge a winner in the end is a very long winding process that will really test your patience.
The humour too fizzles out and its quality remains lowbrow throughout.
Dileep does not seem to invest much in the character except for a well kept beard. We have seen everything else that he does on the screen multiple times before.
Lal has kept a well gelled long and a pointed beard.
Balu Varghese gets into the role that was done by Harisree Asokan, Salim Kumar and a few others with Dileep in the past and to be fair to him, he does not make us miss them.
Madonna Sebastian and Asha Sharath have minuscule roles, and not much is demanded of them.
King Liar falls somewhere in between a typical Dileep film and a typical Siddique-Lal film; nothing more than that.
Rediff Rating: