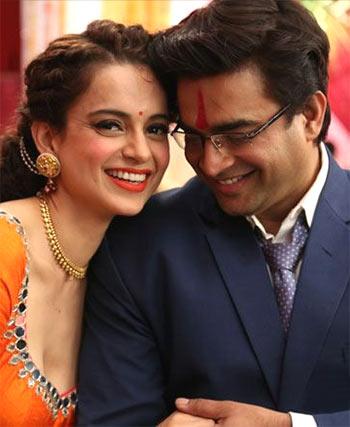 Tanu Weds Manu Returns is not merely superior to its predecessor but the flamboyance and fun it provides is an implication we're not quite done with this mad duo yet, writes Sukanya Verma.
Never judge a marriage by its wedding.
Once the dazzle of unrestrained celebration fades out and rose-tinted glasses fall off one's nose, the stress of matrimony rapidly sets in leaving the best of couples struggling with disappointment and rancour.
Even the oddball couple of Tanu Weds Manu cannot escape this pressure despite their dramatic union in the frothy first edition.
In its follow-up five years later, they're married and settled in London but domestic bliss is nowhere in sight what with all the bickering about their relationship's monotony and expectations in a mental asylum.
Kangana Ranaut and R Madhavan aren't exactly Tanu and Manu as we remember them anymore. She looks miserable, disgruntled and bored. He looks exhausted, embarrassed and out of patience.
They haven't lost their definitive trait, though. She's still pungent. He's still polite.
Aanand L Rai's sequel doesn't delve into the space of how it got to this point but gives us a sense of what must have transpired through the nasty volley of accusations and insults they hurl at each other like only a husband and wife can.
His rollicking Tanu Weds Manu Returns explores the misadventures of a derailed marriage between two oddball characters and their conflicting temperaments through Himanshu Sharma's piquant, jaunty script and a soundtrack (Krsna, Tanishq-Vayu) that wears a voice not just sound.
While the first one moved fervently between cities and small-town ambiance, the action in TWMR, following a prologue in London, takes place primarily in Delhi, Kanpur and a Haryana village.
Accents, twangs and dialects of various North Indian regions infusing Sharma's zesty lines not only add punch and flavour in a conversation but humour too.
It's an exceedingly funny movie aiming for full-throated laughs -- predominantly thanks to the unstoppable riot that is Deepak Dobriyal (still giggle remembering him in one seminar speech scene) -- at its zany two-hour duration.
At the same time, director Rai doesn't take its titular characters' emotionality for granted or drastically alter their characteristics to forcefully spruce things up. No, it continues to revel in their irreverence, indecision and irrationality at a more chaotic, comical scale with some new (and old) faces to boot.
Kangana plays one of them but I would not believe that even for a moment if the credits wouldn't insist otherwise. The actress completely disappears into the feisty Kusum aka Datto, a Haryanvi hockey player studying in Delhi University under sports quota -- a detail she is proud to remind anyone who dare demean her. It's not a major physical transformation per se, mostly a pixie-hair wig to tell her apart from Tanu. Having said that, her body language, which alternates between assertive and serene depending on the surrounding, and the sureness with which she rattles off her mother tongue is nothing short of flawless.
Must say I haven't enjoyed big screen Haryanvi so much since Matru Ki Bijlee Ka Mandola.
And there's again Kangana reprising her firebrand Tanu.
All the refinement in her growth as an actress works favourably for Tanu and her London-acquired poise and eloquence. She's still arrogant, unsure and an unapologetic drama queen drowning her sorrow in drinks and Geeta Dutt. The talented star's calibre shines through in her understanding of a wife's thinly veiled manipulations that are but an attempt to restore what she haughtily believes to be rightly hers.
Rai plays off Tanu and Kusum as two unique facets of feminism. While one's an incorrigible rebel that equates liberation as acting on her wild wills and whim, the other's an underdog whose accomplishments are entirely based on hard work and determination.
Although Rajesh Sharma's (as Kusum's brother) sudden surge of wisdom on women empowerment and casteism to a Khap-inspired gathering, while well intentioned, comes across as consciously preachy.
Coming back to Kangana, the powerhouse makes it difficult to pick a side. I found myself bawling for both at alternate turns.
R Madhavan's Manu isn't as effortlessly likeable as the first time. What prompts him to react so callously and chase novelty is somewhat understandable even if extreme given that Tanu is not exactly holier-than-thou, so keenly established and then reiterated in both the movies. Fortunately, Madhavan's earnestness is tailor-made for forgive and forget.
Constantly bubbling with activity and jokes, Tanu Weds Manu Returns is vivacious in its myriad moods -- whether it's a local lawyer explaining the difference between divorce notice and plain notice, a party of Sardars dancing to dandiya in colourful kediyus, Jimmy Shergill tackling the 'always the bridesmaid never the bride' curse, Manu's father (excellent even in a brief role K K Raina) spilling sarcasm over how to make marriages last, Swara Bhaskar and Eijaz Khan continuing their domestic banter, Mohammad Zeeshan Ayyub adding to the mischief as yet another of Tanu's roguish hanger-ons, Kusum showing off her 'karata' skills or Tanu's whistle worthy adas when she tearfully admits 'abhi aur zaleel hona hai.'
Tanu Weds Manu Returns is not merely superior to its predecessor but the flamboyance and fun it provides is an implication we're not quite done with this mad duo and their quirky universe yet.
Rediff Rating: