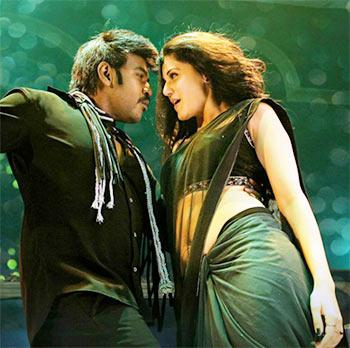 Director Raghava Lawrence's Kanchana 2 is an enjoyable horror comedy about six ghosts who are out to avenge their deaths, says S Saraswathi.
Kanchana 2 is the third part in the Muni series. Both previous films were huge hits and actor/director Raghava Lawrence may well have pulled it off once again.
The film has several crowd pleasing elements. Horror is mixed with comedy, delighting children and family audiences who are looking to unwind after a stressful month of exams.
There is also some romance, action, emotion and high octane dance numbers to showcase the amazing dance skills of Lawrence, who is also the choreographer of the film.
Being a sequel, the director has the freedom to not tamper too much with the winning template.
This time it is not one, but six ghosts who are out to avenge their deaths.
Raghava plays the role of a cameraman (also called Raghava) at a popular television channel.
Suhasini Maniratnam, who essays the role of the company's chairman is anxious about their declining TRP ratings.
An old abandoned mansion on an eerie deserted beach is chosen as the location.
The team played by Pooja Ramachandran, Manobala, Mayilsamy, and Sriman along with Raghava as cameraman and Nandhinee as the show's director, move to the location.
There is plenty of fun, with each character adding his or her style of comedy to the situation.
Even as the shooting begins, the crew senses something creepy in the atmosphere. When Nandhinee finds an old mangalsutra buried in the sand, things spiral out of control.
There is a long and tedious flashback introducing many new characters and the villain finally makes his appearance in the form of Jaya Prakash, a rich landlord.
Also making a surprise appearance in the second half is Nithya Menen in a crucial role.
Taapsee as the confident, bossy and sceptical programme director has a substantial role and is well cast.
Kovai Sarala as Raghava's mother is hilarious. The easy rapport they share and her perfect comic timing has the audience roaring with laughter.
While the film is entertaining, it does have its share of negatives. The VFX is ordinary and the second half too long and high on drama and emotion. Even the climax is a let-down.
The music is by four different composers. The sensuous Vaaya Yen Veera number sung by Shakthisree is the pick of the lot.
Lawrence, who has donned many hats for this film – writer, director, actor, and choreographer – has brought out the best in his team.
The plot may be out of date and the comedy absurd, but the antics of the familiar characters and their enthusiasm make you laugh despite yourself.
Rediff Rating: