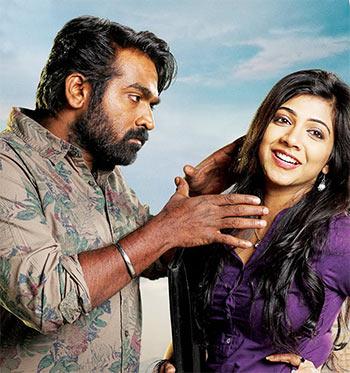 The best part of the film is that, though it revolves around Vijay Sethupathi and Madonna Sebastian, they are small players in the larger story, says S Saraswathi.
Director Nalan Kumarasamy and Vijay Sethupathi created a sensation in 2013 with their black comedy, Soodhu Kavvum. The film catapulted them to stardom overnight, giving Tamil cinema, which was languishing in mundane romantic comedies and action flicks, a new lease of life.
The duo is back with yet another refreshing entertainer, Kadhalum Kadanthu Pogum (Love Too Shall Pass), based on the Korean romantic drama, My Dear Desperado.
Madonna Sebastian, who played Celine in Alphonse Putharen's Premam, makes her Tamil debut here. Produced by C V Kumar of Thirukumaran Entertainment, the film has music by Santhosh Narayanan.
Sethupathi has redefined the role of the hero with every film. He has no qualms about playing the underdog -- the real loser -- and not the typical hero who miraculously transforms to strike terror into the hearts of his enemies and set the world right.
In Kadhalum Kadanthu Pogum, he is just one of the many underlings of a notorious gangster who plays him for a fool. He is promised a license to open a bar in return for taking the rap for a crime he did not commit.
The film opens with Kathir (Sethupathi) returning after a five year stint in jail, hoping for his reward. He is frustrated and angry when he does not become a bar owner and gets into fights where he invariably ends up losing, reinforcing the belief that he is fit for nothing.
We are simultaneously introduced to Yazhini (Madonna), an intelligent small-town girl with dreams of making it big in the city. She is determined to prove herself to her parents, who are reluctant to send her to work in the city.
Though she manages to convince them, her joy is short-lived. In a few months, the company she is working for closes down and she is out of a job. But Yazhini is not ready to give up. As her savings dwindle, she is forced to move into a rundown building where she meets Kathir, her new neighbour.
There is nothing contrived about their many meetings as they run into each other in the same neighborhood. Slowly, they develop an easy relationship but there is no love at first or second sight here and neither do dumb romantic songs mar the narrative flow. Santosh's background score is just as intriguing as Nalan's witty script with characters that touch your heart.
The best part is that, though the film revolves around Kathir and Yazhini, they are just small players in the larger story. With riveting performances by the lead actors, a delightful script and the magic wielded by of director Nalan Kumarasamy and composer Santhosh Narayanan, the film is a sure winner.
Rediff Rating: