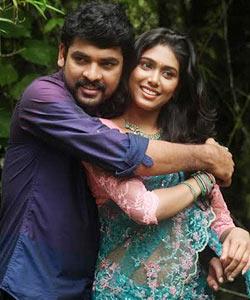 Janal Oram is a pleasant and scenic journey into the lives of passengers who travel together daily on the route between Palani and Pannaikadu, writes S Saraswathi.

Director Karu Palaniappan has given us some beautiful films like Parthiban Kanavu and Pirivom Sandhippom. This time, however, the director has decided to go for a remake.

His latest offering Janal Oram is the remake of the 2012 Malayalam hit Ordinary.

Parthiban, Vemal, Manisha Yadav and Poorna play the lead, supported by Vidharth, Rajesh, Ramana, Singam Puli, and Aravind.


Janal Oram is the first production of Hemanth Movies. The film has music by Vidyasagar, and the cinematographer is Arabhindu Saara.

the story of Janal Oram revolves around the lives of Subbiah (Vemal) and Karuppu (Parthiban), the conductor and driver of the State Transport bus that travels daily between Palani and Pannaikadu.

Subbiah is a righteous, fun-loving guy who dreams of one day becoming the Chief Minister. Karuppu is sarcastic and spends most of his time drinking and chasing women.

Every evening, they make the journey from Palani to Pannaikadu, stay there overnight, and then make the return trip the following morning.

since most of the passengers are residents of Pannaikadu, who travel to Palani for work, Subbiah and Karuppu become quite familiar with them.


There is a retired school principal, Anna Sir (Rajesh) and his daughter Nirmala (Poorna), Kalyani (Manisha Yadav) and her widowed mother, a priest and his helper Saami (Vidharth), Justin (Ramana) and several others.

As Subbiah slowly settles into his job, he also falls in love with Kalyani, who reciprocates his feelings. Karuppu is past his prime and is unmarried due to his family responsibilities.

The first half of the film is light, fun-filled banter revealing the easy camaraderie between Subbiah, Karuppu and the villagers. Just before the interval, a very drunk Karuppu and Subbiah are involved in an accident and are in big trouble.

Post-interval, the film is all about how they get themselves out of this mess.

Parthiban and Vemal have always excelled at village-centric comedy roles, and it is truly a delight to watch them effortlessly slip into their characters. Singam Puli, too, adds to the fun elements in the film.
Manisha Yadav and Poorna are adequate, while Vidharth and Ramana too have done their bit.

But the star of the show is undoubtedly the cinematography by Arabhindu Saara of Thanga Meenkal fame.

As the bus slowly makes its journey across the winding hill roads with its many hairpin bends, we are treated to some spectacular visuals of the lush green valleys, the lakes, the dam and the breathtaking waterfalls, shot from all possible angles.The camera also captures the rustic charm of the village, especially at night lit only by lanterns.

Though the first half is slow, it is quite entertaining as we are gradually introduced to the various characters and their idiosyncrasies.

The film picks up pace during the second half, but the long drawn out climax is a big letdown.

Director Karu Palaniappan has always attracted the family audience with his films, and Janal Oram is no different.

The window seat in any journey always provides a ringside view of the life outside, and Janal Oram, too, offers a brief glimpse into the lives of the people who daily make the trip from Palani to Pannaikadu.

Though nothing overly dramatic or exciting, the story does have a certain simplicity and freshness that is quite appealing.

Rediff Rating: