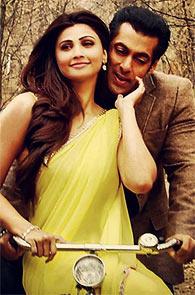 Jai Ho's music suits Salman Khan's personality, feels Joginder Tuteja.

What does one really expect from the music of a Salman Khan film?

Something that comes with the Salman Khan territory. Which means it's pretty much a Sajid-Wajid outing.

The soundtrack has guest composers Amal Malik and Devi Sri Prasad giving a spin as well.

Baaki Sab First Class Hai begins on a boisterous note. There is a dance number element, parody, sarcasm as well as deshbhakti elements. This could have been a good idea but somehow this Wajid-sung number, which is written by Sajid, Irfan Kamal and Danish Sabri, doesn't really cover the distance.

Himesh Reshammiya hows us a new avatar in Photocopy. He brings some good energy to this Sajid-Wajid composed number which is an unabashed Salman Khan track all the way.

A masti, mazaa and dhamaal number, composed with a Gujarat-Maharashtra audience in mind, it doesn't have a single dull moment. Keerthi Sagathia and Palak Muchhal give Himesh good company and ensure that the fun stays on in the 'remix version' as well.

It is time for a romantic melodious song in the Dabangg mode and Tere Naina Maar Hi Daalenge fits the bill. Shreya Ghoshal is the obvious choice for the job and while Shabab Sabri takes care of the 'sufi' part, Shaan is brought in as Salman's voice for this Sameer Anjaan written number.

Though it isn't exactly the best that Sajid-Wajid have offered for many a Salman film in the past, and the overall punch isn't as high impact either, Tere Naina is still the kind of song that can be termed as a safe outing.

Newcomer Amal Malik is brought on board to compose for Jai Ho. He impresses with the English song Love You Till The End, a club tune that introduces a new sound to Jai Ho.

Amal's brother Armaan has written the lyrics and also sings. With a good melody that goes well with Salman's style, it is later heard in the Hindi version, Tumko Toh Aana Hi Tha, which is much softer. Shabbir Ahmed has written the lyrics for this number, and Marianne D'Cruz accompanies Armaan. A winner.

Devi Sri Prasad (DSP), who had composed Dhinka Chinka for Salman Khan's Ready, a few years ago, is back with Naacho Re.

An experimental track that fuses Indian classical with Western arrangements, this 150-second piece has Ujjayinee singing in different styles. It is a situational track and one waits to see how it is placed in the film's narrative.

The soundtrack concludes on a thumping note with Amal Malik bringing on the title track Jai Jai Jai Ho. It would suit a club, dance floor or even a concert. It is sung by Armaan Malik and Wajid, with Bhaven Dhanak, Brijesh Shandilya and Amal Malik as backup vocalists, making it sound like an anthem.

Written by Shabbir Ahmed, this one could make a great impact if it appears at various points in the film's narrative, especially during the interval and later around the climax.

One expected the music of Jai Ho to suit Salman Khan's personality. And that is exactly what it does.
Rediff Rating: