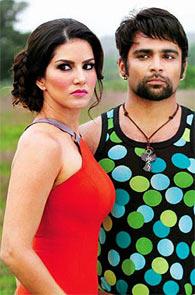 What works in favour of Jackpot's music is the kind of variety that it offers, writes Joginder Tuteja.

One did not have high expectations from the music of Kaizad Gustad's thriller Jackpot.

The soundtrack of many films in this genre have been a letdown. But then, you are reminded of Gustad's last effort Boom, which had a trend-setting score.

So, you keep your options open.

All apprehensions are put to rest once the piano kick-starts the proceedings for Kabhi Jo Baadal Barse. A beautiful romantic number that is straight out of Mahesh Bhatt-Emraan Hashmi-Vikram Bhatt territory, this Sharib-Toshi composed number is as terrific as Bas Tum Hi Ho (Aashiqui 2).

While this is a huge comparison, the song manages to cover such enormous distance courtesy the tune, lyrics by Turaz and Azeem Shirazi, and very importantly, the man behind the mike, Arijit Singh.

The singer does tremendously well in this love song, to be picturised on Sunny Leone and Sachiin Joshi. It's so good that it's been repeated three more times in the album.

The first is Shreya Ghosal's solo. The two remixes that follow -- with Arijit leading the charge -- are good enough to firmly establish the placement of this song as one of the best in recent months.

While Kabhi Jo Baadal Barse could well have been unfamiliar territory for Kaizad Gustad, the director's touch is visible in Full Jhol, the song that arrives next.

Remember See You Baby in Boom? Similar attitude, stage and setting are pretty much on display in this Mika Singh composed number which he sings with an all new attitude.

Though Raj Hans' lyrics may be standard, this club number is just the kind that viewers and listeners would expect in a Sunny Leone starrer. Akasa Singh, who is Sunny's voice in the song, does perfect justice to her inclusion here.

In a good variation, it is Remo Fernandes's turn as composer, singer and lyricist (with support from Abhijeet Deshpande) for Bol Bugger Bol.

With a touch of Goan folk music to it, this one is a situational track. It is amazing to see the 60-year-old Remo so energetic and enthusiastic in his rendition, bringing back memories of Dekho Dekho Ye Hai Jalwa (from Jalwa) that he had performed almost three decades ago.

Jackpot Jeetna could well be the track for the opening credit rolls, like the quintessential James Bond
number.
Hear the violin play in the background with trumpets coming into play for this Hinglish number by Kaizad Gustad, Sridevi Keshavan and Irfan Siddiqui that has Sunidhi Chauhan doing the singing honours.
Though it isn't the kind of number that would play on for many moons after the release of the film, this Sridevi Keshavan and Janala Atugoda composed number does its job well in setting the stage for the film.
The one that plays for the longest duration, though, and has a good mix of club and trance, is another title number,
Jackpot.
A wonderfully mixed number which has Juno Reactor making his debut as a composer for a Bollywood flick,
Jackpot
, the song, is yet another piece that reminds one of the kind of soundtrack that Kaizad Gustad had put together for
Boom
.
A racy number that never once dies down and could well be an easy pick for the DJs to play on during some night out sessions, it has vocals by Hamsika Iyer in the background once the Indian classical piece sets in.
There is some fun in store immediately after as Jaaved Jafferi comes up with a satirical take on 'Shining India'. A rap track that reminds one of Kaizad's
Mum Bhai
(from
Bombay Boys)
which again had Javed doing the honours.
While Jaaved Jafferi pairs with Rahul Bhatt as composer, it is his lyrics along with Prashant Ingole that have to be heard to be believed.
At times they come across as crude, but one gets the message about current affairs in the country loud and clear. Wait for the part when Jaaved asks for an assistant around the 'length' of the song!
Last to arrive is the Itek Bhutani composed
Now You See, Now You Don't
which is sung by Ramya Iyer, who also writes the song along with Kaizad Gustad.
Reminding one of the kind of sound one had heard in vintage James Bond films from the '70s and early '80s, this one is an English number with a true international appeal.
For the lovers of hardcore Bollywood scores there may not be much to get hold of here, so it would be interesting to see how this one finds a place as part of the film's narrative.
Overall, what works in favour of
Jackpot
is the kind of variety that it offers, from romantic to club numbers.
Rediff Rating: