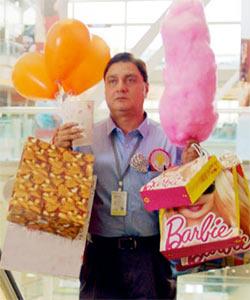 Island City should not be missed, raves Aseem Chhabra.
Ruchika Oberoi's Island City is set in that massive, over-populated island city called Mumbai.
The characters that reside in the three stories that make up the film are surrounded by the noise, the clutter and the crowds, whether they are in a mall, large work spaces, crowded trains or watching popular television soap operas.
But they are deeply unhappy.
The sharply written film (the director is also the scriptwriter), with endearing characters and creative stories, is ultimately a case study about how alienated some people can be in a city like Mumbai. They constantly seek the meaning of their existence in the midst of this loneliness.
That is not to say that Island City is just a sad film. There is abundance of humour in it as well.
Audiences will especially love the second story The Ghost in the Machine, where the wonderful Amruta Subhash (who starred in Marathi films Killa and Astu and is perhaps the best thing in Anurag Kashyap's Raman Raghav 2.0), plays a housewife named Sarita Joshi, who gets a new lease on life, as her controlling husband lies in a coma, while she, her mother-in-law and children binge on an over-the-top Hindi soap opera.
It is a cleverly written plot that plays on the obsession of the India's middle class with the melodramatic soaps.
Her husband's medical condition creates some hardship for Sarita, including that she has to work, but her new life -- especially the television show that she religiously watches -- finally gives her a way out of a sad, abusive marriage.
Sarita finds the path to change her difficult state of affairs. But Tannishtha Chatterjee's Aarti from the third story Contact has a tougher life, living in a small chawl-like flat with her parents and a boyfriend, who cares little for her emotional needs and often berates her for her quiet personality.
Aarti finds a touch of happiness by chance (and as we learn later with a connection to Sarita's husband's company, Systematic Statistics), but it is brief in this life of a young woman lost in the large island city.
Tannishtha gives one of the most deeply felt performances of her career. In a few weeks, she will be seen in an equally strong role in Leena Yadav's Parched.
In the first story, Fun Committee, Vinay Pathak plays Suyash Chaturvedi, a quiet, reluctant single man and a hapless employee of Systematic Statistics that is a bizarre futuristic company (futuristic in British show Black Mirror sort of way).
Then suddenly, quite like with Sarita and Aarti, things take a sharp turn for Suyash when he is selected as the company's employee of the week.
In addition to getting several coupons that he must spend during the day in a mall, Suyash also gets to meet the company's eccentric CEO, played by a delightful Ashwin Mushran.
There is heavy pressure on Suyash to have a fun day, or else Mushran's CEO suggests dire consequences.
The end result: Suyash's eventual fun experience triggers the second story, in this chain-like link to Mumbai's tragic tales of lost souls.
The three stories' different moods and styles are aided by Sylvester Fonseca's distinct cinematography, colours and shades.
But in making a layered, compelling and engaging film, first-time director Oberoi shows that she is already at the top of her game.
Island City is quite unlike any recent Hindi film. The complex narratives, laced with humour and satire, keep us enthralled while also presenting the deeper issues of life.
Island City has made several stops during the past 12 months at film festivals around the world, starting with Venice Film Festival where Oberoi won the Fedora award for the Best Film by a debut director. It has been appreciated by audiences of different nationalities.
Now, audiences in India have a chance to experience a bright new kind of a film. Island City should not be missed.
Rediff Rating: