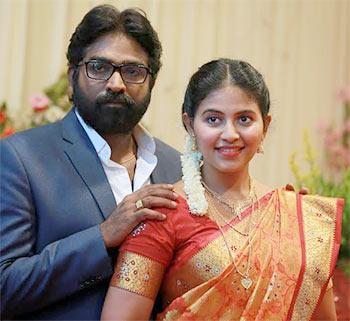 Beautifully etched out characters, wonderful all-round performances, exceptional music and a thought-provoking message makes Karthik Subbaraj's Iraivi a must watch, feels S Saraswathi.
Director Karthik Subbaraj may be just two films old -- Pizza and Jigarthanda -- but he is already a name to reckon with in Tamil cinema.
His out-of-the box scripts, intense characters, real emotions and sensitive execution clearly set him apart from his contemporaries.
His latest offering Iraivi, as the trailer promised, explores the rollercoaster ride that life puts human beings through.
Karthik does seem to have a penchant for characters who are filmmakers. While Siddharth played a struggling director in the super hit Jigarthanda, it is S J Surya in Iraivi.
He plays Arul, a once popular filmmaker who is now struggling to get his film released. His younger brother Jagan (Bobby Simha) is a college student with a keen interest in ancient idols, especially that of Goddesses (Iraivi).
Their ancestors are noted sculptors, whose idols adorn many temples in south India.
Michael (Vijay Sethupathi) is the son of their longtime employer, assisting their father (veteran actor Radharavi) in his work.
They grow up together and the first half depicts their natural bond and affection for each other as they struggle to try and get Arul's film released.
Frustrated and angry with life, Arul turns into an alcoholic and his wife Yazhini (Kamalinee Mukherjee) wants a divorce. Their frequent altercation with the egoistic producer finally ends in a disaster. Just before the interval, Michael is shown thrashing the producer in a fit of anger.
What fate has in store for these three men and the women in their lives forms the rest of the story.
Kamalinee plays the so-called liberated woman with big dreams and tall ambitions, forced to endure the alcoholic ramblings of a man with a broken spirit.
Anjali, who plays Ponni (Vijay Sethupathi's wife), has to live with the fact that her husband is in love with another woman. And Malarvizhi (Pooja Devariya) is a widow, who is unapologetic about wanting a physical relationship with Michael.
Despite the sheer number of characters, everyone has a vital role to play. With brilliant all round performances, it becomes extremely difficult to choose a favorite, but Surya is undoubtedly the winner. Torn between anger, frustration and pain, while simultaneously appearing to be drunk, Surya has given a performance of a lifetime.
The steady fall of rain and Ilayaraja's old melodies permeate nearly every scene, creating a haunting ambience.
Santhosh Narayanan has outdone himself with the stunning background score and great songs.
The film's many sub-plots, lack of fun elements and never-ending hopelessness may be a drawback, but the unpredictability of the narration keeps you intrigued.
The beautifully etched out characters, the performances, the exceptional music and the thought-provoking message makes Karthik Subbaraj's Iraivi a must watch.
Rediff Rating: