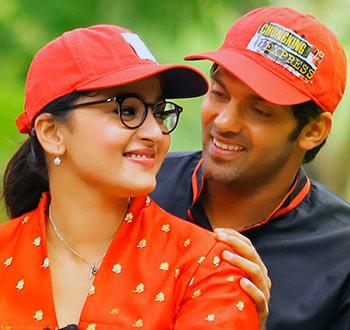 Director Prakash Kovelamudi's Inji Iduppazhagi deals with the concept of size zero superficially and you feel no emotional connect, writes S Saraswathi.
National award-winning director Prakash Kovelamudi's Inji Iduppazhagi is a light-hearted romantic comedy that revolves around an obese young woman, who eventually comes to terms with her weight issues.
The film also talks about a society obsessed with size zero, at the cost of serious health risks.
Produced by PVP Cinemas, the film is a bilingual, simultaneously released as Size Zero in Telugu.
Arya and Anushka Shetty play the lead, supported by Sonal Chauhan, Prakash Raj and Urvashi.
The film has a plump Anushka, who had reportedly gained over 15 kilos for the role, play Sweety. Cheerful and optimistic, Sweety believes all problems can be solved with a plate of hot jalebis.
Her mother Rajeshwari (Urvashi) is desperate to find her daughter a suitable groom.
Sweety is rejected each time, and an exasperated Rajeshwari enrolls her daughter at a popular obesity clinic called Size Zero.The clinic offers express weight loss with no exercise or diet.
Things get complicated, when a fat burning drink served at the clinic results in one of the girls falling sick with a failed kidney.
How Sweety changes the perception of society towards size zero and exposes the false claims of the clinic forms the rest of the story.
Arya plays Abhi, a fitness freak, who initially rejects Sweety but slowly begins to admire her positivity. Though they become friends, he is in love with the svelte Simran (Sonal Chauhan).
Several popular actors like Nagarjuna, Jiiva, Hansika Motwani, Rana Daggubati and Tamannaah cameo in the film.
Prakash Raj plays the antagonist -- he is the greedy smooth-talking owner of the clinic.
The film moves at a leisurely pace and feels monotonous at times. The characters are too flippant and evoke no empathy. The comedy is average and so is the music by M M Keeravani of Baahubali fame.
Cinematographer Nirav Shah, however, makes every frame appear bright and colorful.
The director has chosen a novel concept and even tried to stay away from predictable clichés. Thankfully, Anushka is not miraculously transformed into a slim and sexy figure at the end of the film.
The film depicts a society that is extremely insensitive with its taunts and obsession with size zero.
The director manages to convey a message that happiness is all about sharing a smile and accepting who we truly are to be content in life.
But the matter is dealt with rather superficially and you feel no emotional connect. Director Prakash Kovelamudi's Inji Iduppazhagi falls short of expectations.
Rediff Rating: