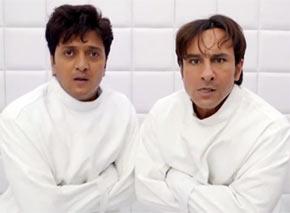 It's all bad. All of it, every last instant, every single word, rants Raja Sen in his review of Humshakals.
Two nights ago, I had a dream. I dreamt (I kid you not) that I watched and didn't actually loathe Sajid Khan's Humshakals, which led to me waking up disturbed and profoundly confused. Is it possible that the most puerile filmmaker (in an industry not known for very mature films) did something half-decent? Could it be...
No.
No, it couldn't.
Humshakals, a film I watched the following night, turned out reassuringly enough to be the kind of thing we expect from Sajid Khan and yet even more harebrained.
I sat in the theatre cringing and sighing, actually feeling the stultification: by nightfall I'd lost so many brain-cells I (almost) rooted for England in a football game. Shudder.
In a particularly painful hat-trick, the last three Fridays have seen me review the silly Holiday, the absurdly amateurish Fugly, and now this pathetic 'film'. But there is one vital difference between those two turkeys and the one Sajid Khan has just dished out. Those are mediocre films basking in their own incompetence; Humshakals is a work of cruelty.
I'm not buying it, Sajid Khan. No director, I believe, can be senseless enough to think this is fine or remotely funny.
Humshakals couples its crude farce with a certain aggression, as if daring the audience to stay in their seats while it repeatedly spits at them.
This is not filmmaking, this is sadism.
Khan hints at it himself in a scene where an asylum warden tortures inmates by showing them Khan's own flop, Himmatwala. We all relate, strapped into our seats, luduvico luddites assaulted by that which must not be watched. Every minute -- and there are a hundred and 57 bleeding minutes -- is so brutal it will make you want to give up your deepest secrets in exchange for escape.
The idea of having three actors in three roles apiece sounds like an ambitious one, but ambition is a concept foreign to Sajidland, where every time there is the slightest scope of a misunderstanding between the doppelgangers, the background score spells it out.
Just how dumb do you think our audiences are, Sajid? Or were you trying to make Judwaa appear nuanced?
This is a racist, sexist, equal-opportunity offender of a film, which wouldn't have been awful in itself were it not also patently unfunny. Seriously, if you run into anyone who claims to have enjoyed this film, step away slowly.
For this is a film where Riteish Deshmukh humps Suresh Menon's leg; a film where parathas are made of cocaine; a film where Saif Ali Khan gets rapey with Deshmukh in drag; a film where two black men appear just so Saif can mouth a line about kaali daal; a film where virtually everyone looks identical and has the same name; a film where people who have hair wear wigs anyway; a film where Ram Kapoor romances himself; a film where characters who have the mental age of children nevertheless start talking like Ranjeet when aroused; a film where Saif Ali Khan, Nawab of Pataudi, drools and barks; a film where a mention of North Korean fascist Kim Jong Un is prefixed by the word 'chinese chowmein'...
And so on.
The biggest casualty from this monstrous effort is, in my eyes, Saif Ali Khan, who may well be disowned by friends and family.
Khan gamely tries to embrace Sajid's hammy script, but the results are grotesque: he overplays it, out on a limb far from the acting tree, and it doesn't make for a pretty picture. Especially since he spends a significant chunk of the film dressed as a waitress, looking not half as effeminate as he did during his early, dupatta-chasing years -- he's now more like the wicked witch of the west.
Riteish Deshmukh, normally the better part of a Sajid film, spends this one making faces while peeing from the roof.
Ram Kapoor, an otherwise fine actor, looks more like Shrek than ever, and is let down by a film that has cast him because he's fat.
Even the great Satish Shah -- who has aged remarkably well, casting directors across the nation -- shows up as an ill-conceived neo-Nazi warden who is, unforgivably, slapped around by these morons. Ugh.
What other Sajid Khan staples? There are three trampily dressed women -- of whom Esha Gupta stands out, for it takes a special kind of talent to be that glaringly awful as an actress -- and, of course, the inevitable Chunky Pandey with a silly accent.
It's all bad.
All of it, every last instant, every single word. (The lyricist even rhymes "junoon" with "caller-tune.")
Which makes me wonder exactly what Sajid Khan's motives are for savaging our audience thus. Is he the real neo-Nazi here? Is he trying to make the country stupid? Is he suicidally trying to see how far people -- producers, audiences, actors -- let him go before someone assassinates him? Is this all some subversive meta-joke being perpetrated on us for not having applauded his acting in Jhooth Bole Kauwa Kaate? Is he turning his whole life into one gigantic "ham scene of the week"?
Your guesses are as good as mine. Because a filmmaker he ain't.
Rediff Rating: No stars