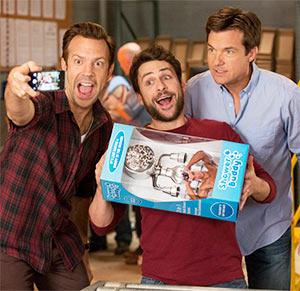 Horrible Bosses 2 has a stronger script and funnier gags than the first film, says Paloma Sharma.
After attempting to (unsuccessfully) murder their bosses in the previous film, Nick (Jason Bateman), Kurt (Jason Sudeikis) and Dale (Charlie Day) are back in business.
Only this time, they aren't just employees.
They are the bosses.
Horrible Bosses 2 brings back the same cast and crew after three years, albeit with a few major changes.
For starters, it replaces Seth Gordon with Sean Anders in the director's chair and then goes on to add Christoph Waltz and Chris Pine to the line-up.
After going through the nightmare of being on a payroll, Nick, Kurt and Dale decide to open their own business and be their own bosses.
They design a product called the Shower Buddy which draws the interest of Burt Hanson, a ruthless businessman who seems to be willing to invest in their business.
On the recommendation of Hanson, the trio gets a bank loan. But once they utilise the money and come up with the order for Hanson, find out that he had been cheating them the whole time.
Suddenly, being the boss doesn't seem like such a dream come true.
Desperate to save themselves from debt, Nick, Kurt and Dale turn to (what they believe) is their only option -- kidnapping Burt Hanson's son, Rex (Chris Pine).
Horrible Bosses 2 has a stronger script and funnier gags than the first film. There is never a dull moment.
There are parts when the comedy ventures into uncomfortable territory, especially regarding Julia (Jennifer Aniston).
The portrayal of both sex addiction and male rape as elements of comedy is disturbing and uncalled for.
Horrible Bosses 2 is a good enough option if you are over 18 and looking for something to help you and your gang of friends unwind.
The film is no masterpiece (and thankfully, it does not pretend that it is) but if dirty jokes tickle your funny bone, Horrible Bosses 2 isn't so horrible.
Rediff Rating: