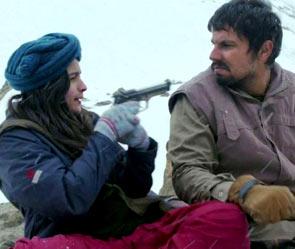 Director Imtiaz Ali and composer A R Rahman were concentrating more on a theme-based soundtrack for Highway that seeps into the narrative, rather than the kind that turns out to be a chartbuster, writes Joginder Tuteja.

The combination of composer A R Rahman, director Imtiaz Ali and lyricist Irshad Kamil sounds promising.

The music of Highway doesn't have an out-and-out crowd pleasing blockbuster score. This is because this is not one of those romantic tales where a hero serenades the heroine and walks into the sunset.

The film is about a girl looking for her freedom and one awaits a situational soundtrack with a classy appeal.

The album gets off to an unconventional start with newcomers Sultana and Jyoti Nooran getting into the Sufi-Punjabi zone in Patakha Guddi, which has the trademark Rahman sound, especially in the interspersing portions. It has an overall happy feel to it and will probably make an appearance at a number of junctures in the film's narrative.

A much longer version has Rahman himself behind the mike. One feels the change immediately, especially in the manner in which the master musician begins to croon Ali Ali.

He gives an altogether different dimension to Patakha Guddi. In fact, one feels that if the song had been titled Ali Ali, it may have managed to connect better and had an enhanced impact.

Rahman doesn't sing often now, but makes an exception for Highway by singing one more track, Maahi Ve.

He gives the kind of vocal rendition that goes well with his own composition. The lyrics of Mahi Ve may warrant a different styling and setting in a Yash Raj or Dharma film, but Rahman brings his own characteristic flavour to this Imtiaz Ali film.

Jonita Gandhi, who was heard first in the title song of Chennai Express, goes solo for Kahaan Hoon Main, and makes a good impression. This slow moving number has a very Western setting as far as arrangement and choice of instruments is concerned.

It reminds one of Rehna Tu that Rahman had created for Delhi 6. Though not entirely in the same league, it belongs to the same genre. Yet another situational number that pretty
much establishes what one can expect from the rest of the soundtrack.
The monotony is broken with Kash, Krissy and Suvi Suresh coming together for
Wanna Mash Up.
This is presumably the number that introduces Alia Bhatt at the very beginning of the film, before her character gets kidnapped.
This is an English track which has the required spunk. It would be interesting to see the kind of mood setting that this Kash and Krissy written number enjoys in
Highway
. A striking picturisation could take this song -- which has good credentials -- to an altogether different level.
It is back to the core flavour of
Highway
with
Sooha Sooha
. Belonging to the heartland of the country in the way it is written as well as put to music,
Sooha Sooha
has a semi-classical flavour.
Sung by Zeb, it also has Alia Bhatt as a special attraction. She comes mid-way through the song. While it is obvious that there are some rough edges, perhaps these are intentional for added authenticity.
Implosive Silence
is Jonita Gandhi's second song in the album. It's a slow moving piece with Jonita primarily humming in the background. It's one of the longest tracks in the album. At close to six minutes, it is an elaborate piece of music that is consistent throughout and doesn't stray from the overall feel and flavour of the album.
The most recognisable singer in the soundtrack is Sunidhi Chauhan who gets a solo in
Tu Kuja.
It has a spiritual flavour and is again set in a semi-classical mode and is strictly situational. One expects a chartbuster of a song from her, but this one just flows with the narrative.
The sound of violins begins the last number in the album,
Heera.
It is written by Sant Kabir and sung by Shweta Pandit. The clarity of Shweta's voice is memorable. The song is primarily situational. It would be interesting to see how this and the rest of the soundtrack actually fit into the film's narrative.
Of all Imtiaz Ali films to date, the music of
Highway
is the most experimental. In fact, it is obvious that Imtiaz and Rahman were concentrating more on a theme-based soundtrack that seeps into the narrative, rather than the kind that turns out to be a chartbuster and popular in itself.
Rediff Rating: