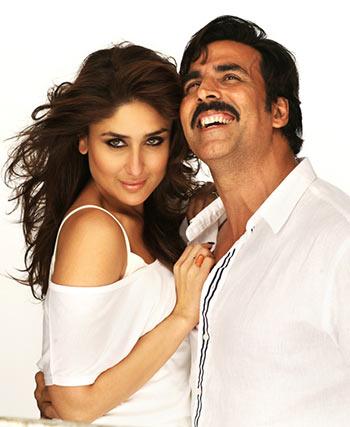 Stay away from theatres, I'd say. 50-kos away, even, writes Raja Sen in Gabbar is Back review.
Villains aren't what they used to be.
I haven't seen the original South Indian versions of many of the cruelly loud movies we're subjected to every few months, but the ones they make in Hindi cinema are so definitively STAR VEHICLES that they deserve the all-caps rebuke. There is clearly no other purpose to these movies than to blatantly make the hero always look good, therefore, despite forever making good-versus-evil stories, they don't create villains of true menace or charisma or even ones that look momentarily like they could whip the hero's behind. Nope, these baddies just scowl and take their punishment.
Which is why I was, against all odds, vaguely intrigued by a film called Gabbar Is Back. Not because I believed any random ungainly retelling could possibly do the iconic Gabbar Singh justice, I hasten to clarify, but because I thought it could perhaps create an interesting villain or an anti-hero, someone who could actually seem like a threat and potentially up the stakes, making it look like the hero's battle will actually be an uphill one.
Nope, what Gabbar Is Back delivers is a bearded Akshay Kumar facing off against some hammy actor I choose only to refer to as Evil Arvind Swamy. A shabaashi is, as you might have gathered, not on the menu here.
Akshay, a well-trimmed beard separating his character from most of his recent ones, plays a college professor who happens to also be a vigilante who orchestrates kidnappings and killings of corrupt government officials. He does all this under the guise of Gabbar, a name that becomes increasingly popular among the people while corrupt officers start returning bribes in fear that he'll come a-whacking. "Varna Gabbar aa jaayega" and all that.
Dumbed down to a ridiculous degree, the film — directed by hotshot Telugu director Krish — tries to be a less-pathetic version of Salman Khan's Jai Ho and might have succeeded on that count were it not for an absolutely daft script, with scenes featuring selfish doctors slapping each other's backs and saying things that could be translated to "look how evil we are! Yay!", and high-flying investigating officers coming in and proudly yelling (here I quote) that "I don't have any reason to understand this." (You and us both, bro.)
Akshay himself is customarily not-bad, and there's something pleasing about a star who, even in these monstrous films, stays off the pedestal. Salman Khan wouldn't even try to act, and Ajay Devgn thrusts himself at us with pornstar brutality. Akshay, who doesn't belong to the come-see-my-nipples squad, almost slacks off whenever he can, standing sloppily, casually clipping his nails in prison, and only occasionally picking the bad guy up over his head — and making it all look real. With a smile. He's aging well, this guy, and the persona remains strong.
Nope, the main problem — no small feat in a film where Evil Arvind Swamy constantly boasts about how he is a "Brand!", like a peculiarly proud cow — is the girl. Shruti Haasan is hideous in the film, an imbecilic character played by a girl with clearly no charisma and dubbed when nobody cared enough to look. It's easy to make a cutesy character insufferable and Haasan is so godawful in Gabbar that she makes the second-half of the film automatically stand leagues ahead of the first, simply because Haasan has only one post-interval scene. Meanwhile we're subjected to the sight of the once promising Chitrangda Singh doing the kind of crass item number Rakhi Sawant might have turned down.
So yeah, not a great movie for women. Then again, Kareena Kapoor shows up for one song and shows off presence, chemistry and star quality, reminding us how good Akshay can be when playing off someone with talent.
Back to Gabbar, then. The basic idea of an anti-corruption crusader, a Kejriwal with muscle, could have been shaped into a compelling film, but besides one decent visual — a shot of everyone wearing Evil Arvind Swamy masks except for our hero, because it only takes one good apple to improve things — this is a constantly unimpressive film. At its best, Gabbar Is Back is occasionally watchable, and at its worst, it's Shruti Haasan. Why would you even try?
And why on earth would producer Sanjay Leela Bhansali want to name this film Gabbar? Even as an exploitative gimmick, it could have been used more cleverly, but here we have a full-length cinematic equivalent of Bali Brahmbhatt's Gabbar Mix. Using the very name of the most fearsome villain in our cinema should mean something, but here it just gives the filmmakers an excuse to cast a dark-skinned actor as an executioner just so Akshay can tease him (even though he's just an innocent fellow doing his job) with the "Tera kya hoga Kaaliya?" line. Ugh.
Stay away from theatres, I'd say. 50-kos away, even.
Rediff Rating: