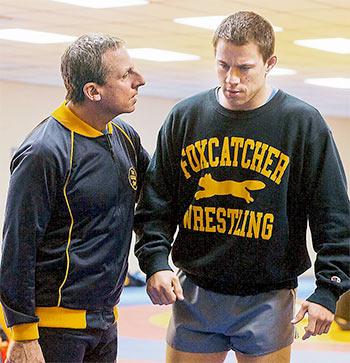 Foxcatcher is deathly dull and far too graceless, says Raja Sen.
Foxcatcher is a film born out of a fascinating (but hard to believe) memoir, a story about sport and commitment and opportunities and madness.
It is a tale that could well have been adapted with a riveting flourish, but Bennett Miller's film creaks under the weight of its own laboriousness. This is a needlessly heavy picture, one that constantly feels the need to underline its solemnity, one that inertly (and, it must be said, inexpertly) unfolds at an unforgivably sluggish pace.
Speediness, I must admit, is not usually a criteria for a dramatic adaptation, especially one crafted well and with impressive performances at its core, but Foxcatcher spends so much time fixated on its own navel it resembles a wrestler trying to figure out a new submission maneuver.
If it's a sleeper-hold, Miller knows what he's doing; it's hard not to tap out forty minutes in. And this happens to be a 134-minute movie.
Those first forty minutes are pretty darned good, however, as we meet Olympic gold-medallists Dave and Mike Schultz, wrestlers who find themselves directionless and ignored, forced to go low-end and give motivational speeches brandishing their medallions at elementary schools.
Anything for the fee, really.
It's a bleak and muddy life, but much change is promised when an eccentric millionaire, John DuPont, offers money and motivation and the chance to build a world-class wrestling squad.
The performances, as said, are mostly excellent, with Channing Tatum as the inscrutably surly Mark Schultz and Mark Ruffalo as his eternally good, eternally mature older brother, Dave. Both actors are great, with Tatum exuding a strong-jawed vulnerability and Ruffalo showing tremendous heart, especially in long and extended grappling sequences.
As the millionaire John DuPont, Steve Carell is intriguing but the performance – despite its Best Actor nomination – is more prosthetic than complete; it is the kind of thing Carell, a gifted actor, doesn't seem challenged by. He plays DuPont consistently and quirkily, but the overall impact is that of him doing a really long Saturday Night Live sketch – he hams it up a fair deal and never quite looks past his own (fake) nose.
I refuse to give away the film's dramatic twist, for it is a genuinely strong moment and one that comes about truly unexpectedly. This is a major screen surprise and if you don't know it yet, it is almost enough to make Foxcatcher worth watching.
If, on the other hand, you already know DuPont's story, go look up some thinkpieces instead. In the name of seriousness, Foxcatcher is deathly dull and far too graceless. When all it needed was a director light on his feet.
Rediff Rating: