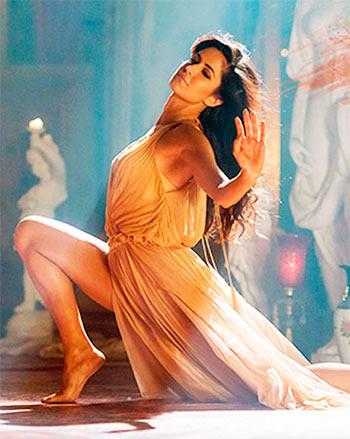 It is one of the best soundtracks in a long time, writes Aelina Kapoor.
Amit Trivedi, composer, and Swanand Kirkire, lyricist, hit the ball right out of the park with Fitoor.
And we see it happen from the very first song in the soundtrack: Yeh Fitoor Mera, sung by Arijit Singh.
The strength of the song lies in the terrific build-up. Amit Trivedi brings on his quintessential sound that stands out from his Bollywood contemporaries, and in the process creates a song that assures you that the ethos of Fitoor would be maintained in the soundtrack.
He excels as a singer too, in Pashmina.
Just like the title song, this one also has a slow start, totally in sync with the mood and ambience of the film.
Haminastu is a beautiful piece of poetry. Expect the snow-peaked mountains of Kashmir to welcome you on the big screen, once director Abhishek Kapoor begins his praise for this paradise on earth. Pakistani singer Zeb Bangash (who made an impression on Coke Studio as well) sings this song.
Zeb returns to perform alongside Nandini Srikar in Honedo Batiya. A situational song which has the two women sing in tandem, while pretty much chatting about broken hearts, this one is a good number too.
Tere Liye has Sunidhi Chauhan get romantic. Since she has a distinct voice, it is wonderful to hear it in an outing like this that requires her to pitch it quite differently. What enhances the song further is the support she gets from Jubin Nautiyal.
The album concludes on an upbeat mode with Sunidhi Chauhan and Amit Trivedi in Rangaa Re. The song arrives in Hindi and English versions (which has Caralisa Monteiro leading the show) and though this isn't necessarily carrying a traditional Kashmiri sound to it, the Western styling pretty much does the trick.
The music of Fitoor is absolutely amazing. It is one of the best soundtracks in a long time.
Rediff Rating: