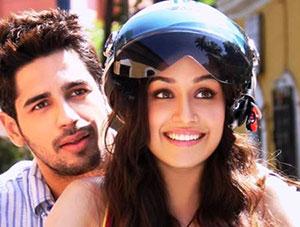 The music of Ek Villain meets the high expectations that one had from it, writes Joginder Tuteja.
The music of Ek Villain carries the stamp of the film's director, Mohit Suri. From the time he made his first film Zeher, Suri has made sure that music from his films works with the masses as well as the classes.
With Ek Villain, Suri creates magic yet again with his team of Mithoon and Ankit Tiwari and an ensemble of lyricists and singers.
The album starts on a tremendous note with Galliyan, which is pretty much the anthem of the season.
The sound of Toh Phir Aayo (from Awarapan) converges with the mood of Sun Raha Hai Na Tu to ensure that Galliyan will not just rule the charts for weeks but will play for many more months to come. A superb number by singer-composer Ankit Tiwari, who gives a good twist to Manoj Muntashir's lyrics, Galliyan scores so well, you forget it's a sad song actually.
The song deserves to be heard at least one more time and this is made possible in an unplugged version by Shraddha Kapoor.
Her voice sounds as polished as that of a professional singer and she makes sure to add an edge to Teri Galliyan. Ankit Tiwari makes an appearance a little while later, but one plays it on loop just for her voice. A haunting melody that cannot be forgotten.
Mithoon is composer and lyricist of Banjaara, sung by Mohd. Irfan. He is another singer making an impression in the Bollywood musical arena, and is sure to be noticed with this number.
The music does not reflect the violence in the film. Mithoon creates yet another sombre number in Zaroorat. Mustafa Zahid's impressive vocals convey sadness in a heartfelt manner in Zaroorat. Another song that bears repeated listening.
There is a surprise in store with Pakistani band Soch (Rabbi Ahmed, Adnan Dhool), playing Awari. The number sucks you in despite its dark setting and a haunting melody.
Adnan Dhool and Momina Mustehsan attract your attention from the start. The lyrics are fresh and the composition unconventional. But it is the rendition, especially by Momina, that ensures the song is remembered.
Arijit Singh, the star of Aashiqui 2, sings Humdard and makes an instant impression with his vocals that have ruled the charts for over a year now. His lethal teaming up with composer-lyricist Mithoon makes one wonder whether this should have been the opening number of Ek Villain.
The music of Ek Villain meets the high expectations that one had from it.
Mohit Suri maintains his record of coming up with memorable music for each of his films. In this, his first ever film outside his mentors' the Bhatts, he makes sure that his new team with Balaji results in a winning soundtrack as well.
Rediff Rating: