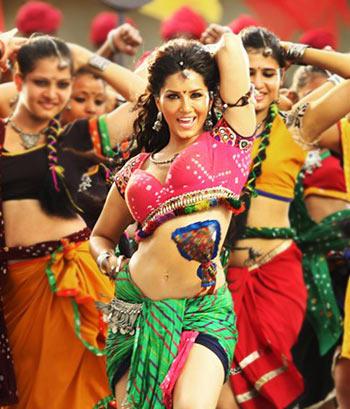 The music of Ek Paheli Leela has a good mix of party and romantic numbers, writes Joginder Tuteja.
Ek Paheli Leela is an album by T-Series, which has an impeccable record for producing chartbusters, especially when the soundtrack is created for a film production of their own.
The hit jodi of Dr Zeus and Kanika Kapoor as composer and singer respectively begin the proceedings in Ek Pehli Leela, with Desi Look.
An instantly catchy number, it has naughty lyrics by Kumaar that compliment the mood and setting of the film.
A romantic solo follows, with Uzair Jaswal composing and singing Tere Bin Nahi Laage. Amaal Malik steps in, and makes it richer by adding antaras.
The song, which is also produced and arranged by Amaal, has a decent pace. The lyrics are by Kumaar, who's quite impressive.
The next number Kesariya Baalam has a Rajasthani flavour and is sung by Tulsi Kumar, Alam Khan, Aishwarya Majumdar and Daboo Malik.
It will go down well with listeners, who like their music to be quintessentially desi Bollywood.
The celebratory Saiyaan Superstar is next, a foot-tapping number that hooks you from the very beginning.
Amaal Malik delivers yet another chartbuster in his evolving musical career with this one. Together with lyricist Kumaar, he makes Tulsi Kumar go totally bindaas behind the mike. A sure hit.
Mohit Chauhan comes on board for Khuda Bhi. He sings it as only he can.
It is a pleasant surprise to see Tony Kakkar's name in the credits as composer. The young composer, together with lyricist Manoj Muntashir, spins a romantic tune that belongs to the world of Aashiqui 2 and Ek Villain. Give this one a listen.
Meet Bros Anjjan and Kumaar come together for the next three songs, two of them adapted versions.
The first Glamorous Ankhiyaan can be safely skipped. Krishna Beura aims at being rustic in his rendition but it doesn't fit in with the title of the song.
Main Hoon Deewana Tera is sung by Arijit Singh; the number was originally sung by Sonu Nigam. For those hearing it for the first time, it may be appealing. But those who have grown up on the Sonu Nigam version will prefer the original.
Another adapted version is Dholi Baaje. It's enjoyable with arrangements that are 1960s Bollywood. Monali Thakur sings it in appropriate style and the backing vocals of Meet Bros Anjjan along with Ved, Ambresh and Ashish keep up the pace.
The album concludes with Tony Kakkar's Ek Do Teen Chaar. He is composer, lyricist and singer, with Neha Kakkar. This party number has the potential to be a chartbuster if promoted aggressively.
It's the original numbers in the soundtrack that do better than the adapted versions.
Play this one when you want some variety; it has a good mix of party and romantic numbers.
Rediff Rating: