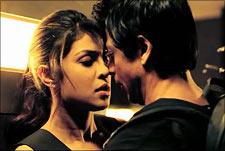 For an action film with the central plot setting us up for a robbery inside a major bank, Don 2's pacing is very slow, writes Aseem Chhabra.
In his new film
Don 2
director Farhan Akhtar takes his time introducing us to his lead, played by Shahrukh Khan. We get a whiff of Khan, a slight sense of his presence, with close shots and shaky hand held camera. There we see his arm, part of his unshaven face, his dark glasses.  As he travels up a meandering river in Thailand, we notice Khan's rather odd looking long hair (a wig, of course), with dreadlocks.  And there is cigarette smoke rolling around his face in slow motion. It is all very sexy and so cool!
Through most of the film Khan is very cool. He often has a twinkle in his eye, a slight mischievous smile, as he speaks dialogues like "Touché" and "
Kya karen sweetheart
, we are everywhere" (in response to Lara Dutta's startled look on hearing that an Indian is a vice president of a major German bank).  Then there are the Don-isms (Don Says) where he speaks in third person spouting statements like "
Don ko pakadna mushqil hee nahih, namumkin hai
," and "
Don apne doston ka haal puche na puche, apne dushmon ki khabar hamesha rakhta hai
."
He walks with a swagger, whether in a Malaysian prison wearing an orange jump suit, or on the dance floor with Dutta. There is a rhythm in his body, as he sways his shoulders and his arms walking up in the
Zara Dil Ko Thaam Lo
song sequence.
And then how can one forget when Khan strikes the ultimate pose -- the camera captures him at an angle, as he slightly tilts his back, with his arms open sideways. It is King Khan's signature attempt to remind us that he is the master of the universe.  At least his fans believe that.
A lot of Akhtar's new film is full of such cool elements with sequences set in sumptuous foreign locations -- the French Riviera, the jungles of Thailand, Kuala Lumpur, Zurich and finally Berlin. 
Don 2
is beautifully shot, well lit and has a very clean look, whether on the streets of Berlin or inside the studio, thanks to Akhtar's terrific cinematographer Jason West.
But then, as with many good intentioned, and technically well crafted Bollywood films,
Don 2
, fails in the key test. Akhtar is definitely one of the smartest filmmakers in Bollywood, but this time he presents us a story, plot and script that is dull, almost boring. When we are not seeing Khan's swagger, or hearing the hip upbeat background score by Shankar Ehsaan Loy,
Don 2
starts to lose steam. 
Part of the problem is that despite its action segments,
Don 2
is also a Bollywood film and so romance has to be a part of the plot. Towards the end of the film while bullets are flying everywhere, there is an unexpected, almost forced and laughable romantic moment between Khan and his co-star Priyanka Chopra. Everything pauses for the stars to look into each other eyes.
For
an action film with the central plot setting us up for a robbery inside a major bank, the film's pacing is very slow.  Coupled with that, the script explains everything to us step-by-step. And if anyone was paying attention, following the convoluted plot where Don always manages to sweet charm the morons at Interpol, in the last five minutes Akhtar sums up the film with a quick recap, revealing many more details that were never shown to us before.  It is an old fashioned gimmick to make the audience say "Wow, we were fooled!"
For a suspense thriller,
Don 2
has no edge-of-the-seat moments, despite a decent car chase sequence and a scene when Don jumps off a tall building in Berlin. One big problem is the timing of
Don 2
's release. Akhtar and his producing partner Ritesh Sidhwani (Khan and his wife Gauri are also listed as producers of the film) chose to release the film during Christmas weekend.  It is too bad that just a week before that, Tom Cruise released his mega-budget action film of the season
Mission: Impossible -- Ghost Protocol (MI4). 
It is may be wrong to compare the two films, but watching
MI4,
I had to remind myself to breathe. As I sat through
Don 2
-- a wannabe
MI4
, I was breathing too heavily, frustrated at the slow moving film.
Khan's charming presence aside,
Don 2
is packed with uninspired performances by a large supporting cast. First in the line-up is Chopra as Roma, an Interpol officer located in Kuala Lumpur. She is attractive looking, with her big pouting lips, but most of the time Chopra acts like a school girl putting her hands on her forehead in exasperation saying "Damn it," or a character out of an Enid Blyton book, collecting clues to solve the Mystery of the Missing Don! 
Om Puri, who once was one of the finest actors in India, is such a caricature here. He looks tired as Vishal Malik, Chopra's boss at Interpol. Despite his very Leslie Nielsen appearance, he sounds positively silly, saying dialogues with his heavy throaty voice -- "It's over Don," or simply "It's Don" (as he answers a cell phone.)
Boman Irani tries hard to look menacing, and he does partially succeed. Kunal Kapoor appears in the second half of the film as a computer hacker, but he is so sweet and good natured, and has a lovely pregnant German girlfriend. We know that nothing bad will happen to Kapoor's Sameer. Don may be a negative character, but Khan is a Bollywood star. He has to have a heart of gold and he cannot do bad things to good people.
Rediff Rating:



Don 2 hit or flop? Tell Us!

Listen to Don 2 songs here!
Watch Don 2 trailer.