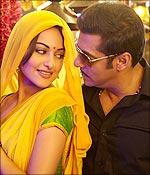 Abhishek Mande reviews Dabangg
Salman Khan's latest offering Dabangg starring Arbaaz Khan, Sonu Sood and debutante Sonakshi Sinha is a film that cannot be said to have a coherent storyline or consistent characterisation.
And while the music sounded okay to me, the picturisation of the songs often left a lot to be desired. Also the fact that they kept cropping up at regular intervals didn't help much.
Dabangg tells the story of Chulbul Pandey (Salman Khan) a corrupt but fearless cop who wouldn't think twice before rubbing a powerful politician the wrong way or hammering the daylights out of a bunch of well-connected dacoits.
Pandey is man of contradictions. On the one hand he will have no qualms about stashing black money at home, he will also not hesitate before handing out the same bundles of currency to someone in need -- even if it is his stepbrother (Arbaaz Khan) or stepfather (Vinod Khanna), who he hates from the bottom of his heart.
Now, Chulbul Pandey who considers himself as something of a Robin Hoodesque character, makes enemies out of some very influential people. One of them is a local politician Cheddi Singh (Sonu Sood) who has his fingers in a lot of not-very-pleasant pies.
Singh of course tries his best to bump off Pandey without much success.
In the midst of all this our fearless cop also manages to discover inside him feelings he thought never existed. A young village damsel, Rajjo (Sonakshi Sinha) catches his attention and Pandey goes all out to impress her.
Along the way he battles baddies every 45 minutes, kills a few, spares some and evoke a few laughs too.
Dabangg is a movie that throws all notions of subtlety out of the window and presents to you a picture that celebrates the loud and the kitschy.
It is the kind of a film where you are supposed to hoot when Malaika Arora shows off those heavenly abs of hers and whistle when Salman breaks a door as he makes his first entry on the screen.
If you are the kind of a person who enjoys men's locker-room humour and thinks that Salman is the coolest person to have walked the earth, Dabangg is your totally up your alley.
That is the thing about Dabangg. It is what they call in Bollywood 'an out and out Salman Khan film'. It is one in its truest sense -- from frame a to frame zee. If you don't feel the adrenaline rush each time you see Salman bashing up baddies, you are in all likelihood not going to like the movie.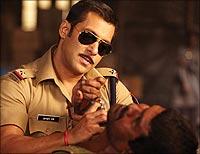 Salman gets the best lines, all the fight sequences any hero of his generation would give an eye and tooth for and most importantly a supporting cast that is so evidently in awe of the man that they let him stay in the limelight… the way they'd do in real life.
In a way Dabangg is an ode to Salman's off-screen persona -- macho, large-hearted, unpredictable and bigger than life.
But is it a great movie? Possibly not. With no storyline to speak of, scenes that seem to pop out of nowhere and characters doing random things with no seeming logic, Dabangg isn't anything close to being a classified as a good film.
Does it entertain? I would go with a loud and emphatic yes. Salman Khan towers over his film in a way that only one other Indian actor can -- superstar Rajinikanth. Khan's extremely overwhelming screen presence demands your attention and grabs you from the first scene itself. He mouths dialogues that would make anyone else saying it look like an idiot and does things -- like a swagger or a drawl or something as ridiculous as wearing his sunglasses on his back -- that only he can carry off.
Newcomer Sonakshi Sinha comes as something of a surprise too. The buxom belle is a welcome change from the anorexic heroines we've been so used to seeing. Not much can be said about her acting skills but hey you have to give it to her for being able to hold her own despite Salman's presence.
Sonu Sood who plays the antagonist does his job with all earnestness. Though I suspect he will be playing a negative role for most part of his career, which is sad because the guy is evidently quite talented.
It isn't easy to get noticed when you have an huge star on the one hand and a young daughter of a veteran actor who everyone wants to know about and Sood has evidently worked hard for this role. He spares no occasion to drop his shirt and show off a chiselled body that could well give Salman Khan an inferiority complex.
Yet Dabangg continues to belong to Salman, the last standing action hero of our times, who may not know to dance, sing or (if I may daresay) act but sure as hell knows how to pack a punch and entertain the crowd like no one else can ever dream of doing.
Dabangg is not a movie for non-Salman fans. But for those who worship him it's a film you simply cannot afford to miss.
Rediff Rating: