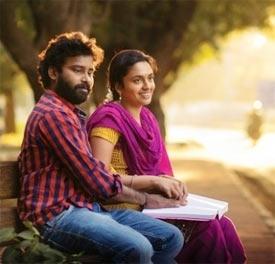 Tamil film Cuckoo is a heartwarming love story between two visually challenged individuals that keeps you totally engrossed with its brilliant performances, sensational music and stunning visuals, definitely a must watch, writes S Saraswathi.

After the massive success of Raja Rani, Fox Star Studios and The Next Big Film Productions are back together with yet another winner, a refreshingly different love story between two visually challenged individuals, titled Cuckoo.

The film is directed by newcomer Raju Murugan, a former journalist, who worked with the popular weekly Ananda Vikatan for nearly seven years before joining as an assistant to director Lingusamy. Cuckoo has been inspired from the love story of a real-life visually-impaired couple, whom the director had the opportunity to meet during his days as a journalist. The story of Cuckoo is in the form of a narration by the Director himself.

Dinesh of Attakathi fame plays Thamizh, a poor blind youth, who makes his living as a part-time singer selling small trinkets in the local train. Malayalam actress Malavika Nair plays Sudhanthirakodi, who is also visually challenged, and is studying to be a teacher. Sudhanthirakodi hopes of one day getting married to someone, who does not suffer from the same disability.

How they meet, how love blossoms between the two and the problems they face, forms the crux of the story. And though on paper, it may sound like an ordinary love story, where the hero and heroine fall in the love after the initial little squabble and of course finally get together after facing opposition from the family, there is absolutely nothing ordinary about Cuckoo.

Cuckoo makes you laugh, brings tears to your eyes and tugs at your heartstrings with its simplicity and beauty. Even the dialogues are like everyday conversations and each and every character seems real.

The director takes us into the world of the very self-sufficient
and independent blind community, who go about their everyday life, just as any of us would do. There is no unnecessary moping or attempt to arouse empathy. Instead of making it drab, dark and depressive, the director has chosen to make
Cuckoo
a bright, cheerful and colorful film with characters you will fall in love with.
The film is lots of fun; the music and entertainment troupe that Thamizh is a part of keeps the audience in splits with its unique characters. We have an MGR, a Vijay, an Ajith and also a Chandrababu.
Aadukalam Murugadoss plays Thamizh's friend and well-wisher and his satirical dialogues were much appreciated earning him loud whistles.
Both, the music by Santhosh Narayanan of
Pizza
and Soodhu Kavvum fame and cinematography by PK Varma play a vital role in the film, taking it to a whole new level. The film is filled with beautiful melodies complemented by haunting lyrics and mesmerizing vocals.
PK Varma's camera captures every movement of the eye, the quivering of the hand, the hesitant step, and the innumerable emotions flitting across the faces of the lead characters.
It would be an understatement to say that Dinesh and Malavika have lived as Tamizh and Sudhandhirakodi. Dinesh has given a performance of the lifetime, his character is such a unique blend of vulnerability and defiance that every scene is worthy of praise. Malavika too has given a brilliant performance. Both deserve a standing ovation and the audience stood and applauded for several minutes after the climax, which is definitely one of the highlights of the film.
Elango and Nandhini, two visually-challenged actors in real life, too, have done an exceptional job in the film.
A heartwarming film that is sure to stay in people's heart forever.
Cuckoo
is totally worth it, definitely a must watch.
Rediff Rating: