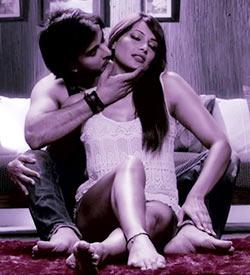 Creature's soundtrack lives up to its expectations, writes Joginder Tuteja.
With a director like Vikram Bhatt, known for his good taste in music, the soundtrack of Creature was expected to be good. With Mithoon at his disposal and a guest track by Tony Kakkar, the soundtrack lives up to its expectations.
Tony Kakkar starts the proceedings with Sawan Aaya Hai. Its melody, lovelorn lyrics and quintessential Arijit Singh vocals make it an instantly catchy song.
Tony does really well as composer and lyricist to produce a composition that is straight out of Nadeem-Shravan territory from the 1990s.
The song is repeated a couple of times in the album, once in a 'remix' version and then again as an 'unplugged' version with Tony behind the mike.
Sawan Aaya Hai will find a good audience in the weeks to come.
Mithoon is next with four back-to-back numbers. He is both composer and lyricist for Hum Na Rahein Hum. Benny Dayal renders the vocals rather well for this romantic number.
The song has a touch of seduction, is slow paced and has a good flow. It is a good continuation of Sawan Aaya Hai. There is a 'remix' version as well. It's the sort of old school melody that never fails in Bollywood.
Naam-e-Wafa begins in trademark Vikram Bhatt style. One is also reminded of his music for Haunted and 1920 - Evil Returns. Newcomer Farhan Saeed brings a certain pathos to the vocals.
This haunting song (also appearing in a 'remix' version) features Tulsi Kumar as well. Though Tulsi sings well, one wonders if she is the right choice for a husky Bipasha Basu, the leading lady in the film.
Another new voice is that of Saim Bhatt, who compliments the stage and setting created by Vikram Bhatt and Mithoon.
Ik Pal Yahi is a good follow up to Naam-e-Wafa. It hints at a more sinister plot in the film than the promos convey, with words like tera guzra kal and ik pal yahi tera mera.
A haunting melody, it has Western instruments complimenting the composition that catches your attention right through its six-minute play.
The last number is Mehboob Ki, a little more upbeat than the four songs preceding it. Mithoon sings this love song, playing the triple role of composer, lyricist and singer.
A smile-through number that has Mithoon written all over it, Mehboob Ki reminds one of the compositions he had put together way back during his The Train and Aggar days.
Vikram Bhatt delivers as promised with Mithoon and Tony Kakkar doing their job well. Despite being a horror-drama-thriller, Creature boasts of some good music.
Rediff Rating: