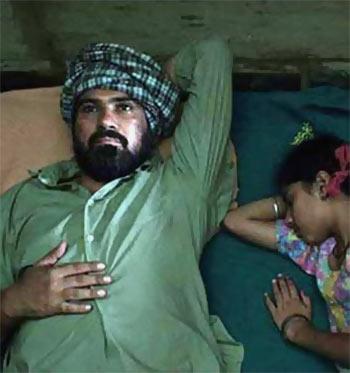 Lovers of good cinema should not miss this opportunity to watch one of the best Indian films of 2016, says Aseem Chhabra.
Gurvinder Singh's second feature Chauthi Koot is a remarkable document about life in rural Punjab, before and after Operation Blue Star in June 1984, when the Indian Army attacked the Golden Temple in Amritsar to flush out terrorists.
As a film, Chauthi Koot is a case study about how to make indies with non-actors.
But the biggest actor that populates the film's narrative is fear.
What happens to ordinary people -- in this case, regular farmers, Sikhs and Hindus, all citizens of the state -- when the terrorists and armed forces, terrorise their daily existence?
There are many such moments of fear throughout the film, like the quiet of the dark rural nights broken by the insistent barking of a dog each time the terrorists pass by, or when soldiers recklessly search the home of protagonist Joginder Singh (Suvinder Vicky), as his terrified children watch the events unfold with a sense of helplessness.
Gurvinder Singh, who was mentored by the late Mani Kaul, learned a lot about the language of cinema from the master. There are tones of Kaul's pacing and mood in Chauthi Koot.
Chauthi Koot is a gripping reflection of life in Punjab in the 1980s. Under Gurvinder Singh's command, the film speaks in a voice that the audience can understand.
Bollywood recently shared with us a loud, flashy (although at times, very effective) face of Punjab in Abhishek Chaubey's Udta Punjab.
Chauthi Koot is a lot quieter on the surface. But in many ways, it is a much more explosive film, one that the Indian audience must watch to understand an important and dark part of the country's recent history.
Chauthi Koot is based on two stories by Punjabi writer Waryam Singh Sandhu, who won the Sahitya Akademi Award for his collection of stories The Fourth Direction and Other Stories, translated into English by Akshey Kumar. One is The Fourth Direction/Chauthi Koot and I Am Feeling Fine Now/Main Theek Thak Haan, the main focus of the film's narrative.
The film, starts with two Hindu men rushing to a station to catch a train to Amritsar. This story, as we will later learn, is set after the attack on the Golden Temple.
We see the fear on the faces of these men, as they believe they might have missed their train, when they beg and force their way into the conductor's compartment.
To their surprise, the compartment is already occupied by a few other desperate passengers -- Hindus and Sikhs, all terrified of having to travel long distances in difficult times.
As we will get to know towards the end of the film, in a post-Operation Blue Star Punjab, Sikhs had a greater sense of fear. They felt safer riding in a train or walking alongside Hindus.
So while the film makes a case that all citizens of Punjab, regardless of their religion, were in the same boat, it is also a commentary of a time where people sought comfort based on their fellow passengers' faiths. They were not looking for human beings as companions on the journey, they were looking for persons, who were Hindus and/or Sikhs. It was a time when religion became the defining identity of individuals.
The middle section of the film takes up the second story where the terrorists and the Indian Army pressurise Joginder Singh and his family to kill their dog Tommy. But Tommy -- a metaphor for the spirit of Punjab and its people -- refuses to die for a long time.
His barking becomes incessant, jarring, annoying and it brings a deep sense of fear for the audience. But the director keeps him alive for as long as it is possible.
Tommy is not just the spirit of Punjab.
The dog represents today's Kashmir, Palestine and just about every location in the world where the will of people can be suppressed by the powerful, who have weapons. While the film is in Punjabi, Chauthi Koot speaks a language that is universal.
The film is beautifully shot. Some of the early foggy morning scenes, as well as a storm that accompanies rain, are haunting. In casting non-actors, all with a warm presence that makes us care for them, Singh takes us into the heartland of India that we rarely experience.
The release of Chauthi Koot is a reminder that times are changing in India.
Until a few years ago, a Punjabi language film would have only played in theatres in Punjab. But as the audience for a film like Chauthi Koot have grown, its distributor has also rented theaters in other urban areas -- from Mumbai, to Pune, Bangalore, Kolkata, and, of course Delhi, Gurgaon and Noida.
Lovers of good cinema should not miss this opportunity to watch one of the best Indian films of 2016.
Rediff Rating: