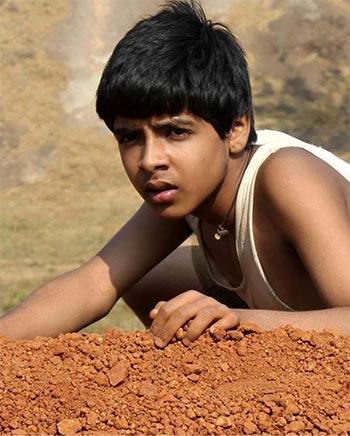 ... It is more like a documentary on the appalling condition of the Dalits, feels Namrata Thakker.
The last Bollywood film which touched upon the issue of cast discrimination that I watched was Prakash Jha's Aarakshan. Unfortunately, it barely delved into the subject, and left me quite disappointed.
Bikas Ranjan Mishra doesn't make the same mistake with his debut directorial film Chauranga.
The film is as brutal as it can be.
Mishra sheds light on how Dalits are treated as untouchables even today and how cast and gender discrimination still rules rural India.
Yes, we are all aware of these societal problems but as Onir (the film's producer) tells us, in the world of multiplexes and malls, we have forgotten the other India. And rightly so.
Chauranga is about that other India.
Certain scenes will make you uncomfortable and give you goosebumps. And even though the film is relatively slow, the first half is engaging, thanks to the well-defined characters.
What lets down Chauranga is its story, which starts and ends at the same point.
Onir tells us that the film was a 14-year-old Dalit boy, who falls in love with an upper caste girl and writes his first love letter.
But Chauranga deviates from the plot too quickly, and it is more like a documentary on the appalling condition of the Dalits.
Had the makers of Chauranga given their film a befitting end, even the documentary feel wouldn't have mattered. Unfortunately, the end leaves you unsatisfied.
Having said that, Chauranga is still worth a watch because of its talented star cast and the brutal representation of rural India.
Dhaval (Sanjay Suri) is a local strongman who indirectly rules the village and believes lower caste people have no rights. Ironically, he is physically involved with a Dalit woman named Dhaniya (Tannishtha Chatterjee).
While Dhaval seems to be in love with Dhaniya, the truth is he isn't.
Dhaniya, on the other hand, uses her sexual relationship to fund her son Bajrangi's (Riddhi Sen) education.
She wants to educate her younger son (Soham Maitra) as well but he falls in love with Dhaval's adolescent daughter Mona (Ena Saha).
Then there is Dhaval's docile wife (Arpita Pal), who is shown as a victim of superstitions. She knows about her husband's wandering ways but is a mute spectator because women don't have a say in anything, even if they belong to the upper caste.
Dhritiman Chatterjee plays the perverted blind priest and his character made me feel the most uncomfortable.
The supporting characters and subplots, however, spoil the main narrative flow.
While all actors play their parts nicely, Soham Maitra and Riddhi Sen steal the show. Their brotherly equation has been captured beautifully and they light up the screen every single time.
Chauranga is a good attempt at reminding us that India is still bound by caste and gender discrimination but it really does nothing more than that. And that's the biggest problem.
Rediff Rating: